Butterfly Tackiness Drive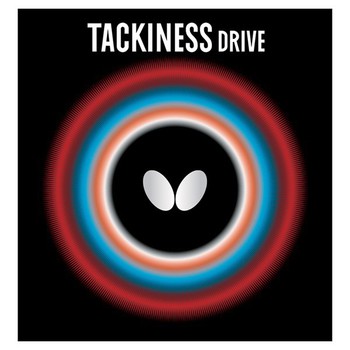 Price: $29.99


$39.99
Save $10.00 (25%)

Designed for the controlled spin player, TACKINESS - DRIVE is equally at home for the steady looper or blistering chopper looking for more speed in his/her attack.
Speed: 85
Spin: 90
Control: 86
Density: 38
Reglue Effect: Medium
---
Customers who purchased Butterfly Tackiness Drive also purchased:
Ordering Information
Rubber FAQ and Guide to Choosing Rubber - what you need to know when buying rubber.
Compare rubber ratings - compare ratings to other sheets.
Free shipping over $50 to continental US locations.
Best Price Guarantee We guarantee to have the lowest prices (shipping included) when compared to US table tennis stores. Please tell us if you find a lower USA price.
Reviews of Butterfly Tackiness Drive (12)
Submit a short review about Butterfly Tackiness Drive.

View all 12 Reviews
| | |
| --- | --- |
| | External Review on July 29, 2013 |
Good rubber to learn basic strokes. Combine it with tackiness chop or chop II and you will have a good allround equipment. If you want to improve your play than it's time to try sriver G3 FX.
---
| | |
| --- | --- |
| | External Review on July 27, 2012 |
Very good all around rubber. Good spin on serve and loops. Very Good control on short game. You can play offensive and defensive game with this rubber. Easily cracks on the edges on miss-hits though.
---
External Review on June 9, 2012
i used this for backhand - i learned chopping with it. i can still remember its smell when new, and holding a ping pong ball in the air with it. it's a great learning rubber and an awesome weapon for all around players. i like it better than tackier chinese rubbers in that it is softer and can "pinch" the rubber better. novice players can generate decent spin, but those who know it can really squeeze monstrous spin.
---
| | |
| --- | --- |
| | External Review on May 1, 2012 |
At a time when good rubber choices were not that many, Tackiness D was a top option as a backhand rubber. For many players during my time, it was Robin and Sriver was Batman. Great combo then as the tackier Tackiness D allowed you to set up for a Sriver forehand.

What I distinctly remember with the Tackiness D is that it helped me developed a consistent backhand loop and even a backhand jab block like the ones Waldner and Primorac used a lot.

However, when I tried using it as a forehand rubber, Tackiness D was a disappointment. After getting used to the faster Sriver, I somehow came to realize that it is not, for me, a forehand rubber. Sure, you can loop it consistently but the speed is sorely lacking.

Had it on my Butterfly Grubba and Stiga Legend. Never tried it on a carbon blade. Overall, a great backhand rubber.
---
External Review on December 9, 2011
i put to my senkoh 5.it really control ,chop,drive and smash very good rubber

View all 12 Reviews