Butterfly Sriver EL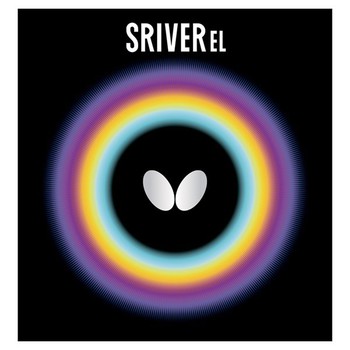 Price: $35.99


$42.99
Save $7.00 (16%)

Butterfly proudly introduces the newest member of the SRIVER family, SRIVER-EL (ELastic). The latest genre combines SRIVER's top sheet with a medium-soft elastic sponge that until recently had been specially selected only for our leading world ranked players. Do you prefer a hard or soft sponge? If you like a hard sponge, then you can choose the "normal" SRIVER. If you prefer a soft one, then SRIVER-FX is ideal for your play. But, if your requirement is in between the two (and this is where most of the top players are placed) then we recommend the new SRIVER-EL.
Speed: 100
Spin: 80
Control: 83
Density: 35
Reglue Effect: High
---
Customers who purchased Butterfly Sriver EL also purchased:
Ordering Information
Rubber FAQ and Guide - what you need to know when buying rubber sheets.
Compare rubber ratings - compare ratings to other sheets.
Free shipping over $50 to continental US.
Best Price Guarantee We guarantee to have the lowest prices (shipping included) when compared to US table tennis stores. Please tell us if you find a lower price.
Reviews of Butterfly Sriver EL (52)
Submit a short review about Butterfly Sriver EL.

View all 52 Reviews
| | |
| --- | --- |
| | External Review on April 24, 2014 |
this was my first rubber i ever tried and its great for starting players who like to have a lot of control but still be able to spin
---
| | |
| --- | --- |
| | External Review on November 9, 2013 |
Not one person has said what makes this rubber different from all the others, its the unique ball curve when looping. You only have to look at the amount of reviews to see how popular this rubber is. Anyone who is starting out in table tennis and wanting to be an attacking player should start with this rubber in 1.9. When I used to glue up it was absolutely the best rubber ever made. 2.1 EL blocks, loops against a push, and counter very very well. My second choice would be Tenergy 05 in 1.9, more spin and speed but less control when counter looping.
---
| | |
| --- | --- |
| | External Review on June 23, 2013 |
Very good rubber the first 3 months.
good spin, speed and control.
Great for push and placements.
Descent serves.
Great backhand shots.
Not too fast.

After 3 months it turns really badly.
The grip is totally gone. Makes the rubber too bouncy due to the great elasticity.
The ball flies over the table and into the net.

That was 6 years ago. I did only practice 2 hours a week.

Not very durable.
Most chinese rubbers lasts longer.

Used in 2.1 on Donic Persson Powerplay.
---
| | |
| --- | --- |
| | External Review on May 3, 2013 |
a very nice butterfly rubber that is good on backhand. I recommend this for defensive player if you ever use it on fore hand, but if you use it on backhand it can play as all around rubber... very nice!
---
| | |
| --- | --- |
| | External Review on October 7, 2012 |
Awesome. Good for looping and is a great combination with a faster blade.

View all 52 Reviews