Butterfly Sriver EL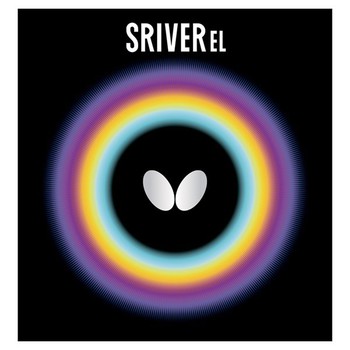 Price: $36.99
$42.99
Save $6.00 (14%)

Butterfly proudly introduces the newest member of the SRIVER family, SRIVER-EL (ELastic). The latest genre combines SRIVER's top sheet with a medium-soft elastic sponge that until recently had been specially selected only for our leading world ranked players. Do you prefer a hard or soft sponge? If you like a hard sponge, then you can choose the "normal" SRIVER. If you prefer a soft one, then SRIVER-FX is ideal for your play. But, if your requirement is in between the two (and this is where most of the top players are placed) then we recommend the new SRIVER-EL.
Speed: 100
Spin: 80
Control: 83
Density: 35
Reglue Effect: High
---
Customers who purchased Butterfly Sriver EL also purchased:
Ordering Information
Professional racket assembly is offered on most orders free of charge. Please add a blade and 2 rubber sheets to the shopping cart to activate the racket assembly option on the shopping cart page. See Racket Assembly FAQ. You may also want to assemble your blades and rubber sheets yourself.
Instead of choosing rubber sheets and a blade, you may select a ready-made racket from our rackets section.
Rubber FAQ and Guide to Choosing Rubber - what you need to know when buying rubber.
Compare rubber ratings - compare ratings to other sheets.
Free shipping over $50 to continental US This applies on all items except Newgy items.
Best Price Guarantee We guarantee to have the lowest prices (shipping included) when compared to US table tennis stores. Please tell us if you find a lower USA price.
Reviews of Butterfly Sriver EL (49)
Submit a short review about Butterfly Sriver EL.

View all 49 Reviews
| | |
| --- | --- |
| | External Review on May 3, 2013 |
a very nice butterfly rubber that is good on backhand. I recommend this for defensive player if you ever use it on fore hand, but if you use it on backhand it can play as all around rubber... very nice!
---
| | |
| --- | --- |
| | External Review on October 7, 2012 |
Awesome. Good for looping and is a great combination with a faster blade.
---
| | |
| --- | --- |
| | External Review on August 29, 2012 |
greatest backhand rubber
good at BH looping
kinda slow but spinny
---
| | |
| --- | --- |
| | External Review on August 20, 2012 |
| | |
| --- | --- |
| | External Review on December 1, 2011 |
I have used this only for BH, and it has served me well. Good for jabbing top spins and also very good for back hand loops. It is a bit slower when smashing, but that can be compensated with a fast blade. Overall I love this rubber on my BH!!

View all 49 Reviews