Butterfly Bryce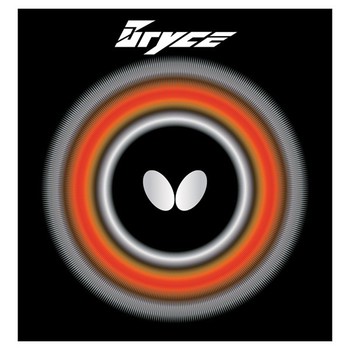 Price: $54.99


$66.99
Save $12.00 (18%)

BRYCE is created by an entirely new process which reduces energy loss at the ball rebound as much as 18% compared to other rubbers. As both rubber and sponge are flexible and highly resilient, they catch and absorb the oncoming ball and catapult it with your own added speed and spin. Top 20 world ranked Kalin Kreanga and Werner Schlager play with BRYCE.
Speed: 120
Spin: 95
Control: 72
Density: 35
Reglue Effect: High
---
Customers who purchased Butterfly Bryce also purchased:
Ordering Information
Rubber FAQ and Guide to Choosing Rubber - what you need to know when buying rubber.
Compare rubber ratings - compare ratings to other sheets.
Free shipping over $50 to continental US locations.
Best Price Guarantee We guarantee to have the lowest prices (shipping included) when compared to US table tennis stores. Please tell us if you find a lower USA price.
Reviews of Butterfly Bryce (25)
Submit a short review about Butterfly Bryce.

View all 25 Reviews
| | |
| --- | --- |
| | External Review on January 28, 2013 |
I used this rubber to get more speed on the kill smashes with my FH. And for that it is great. My opponents wondered where the sudden acceleration from the ball came from. One even described it as "the ball exploded from your blade". Other than the great speed the rubber feels hard and heavy without too much control or spin. I've replaced it with a Bluefire M3 for more control and spin. But for raw speed you can't go wrong with this one.
---
| | |
| --- | --- |
| | External Review on May 30, 2012 |
By far the best rubber I've ever used, though I've never tried the newer Speed or Speed FX versions. I tried Tenergy 05 on a stiga graphite wood blade a few years ago and it was awful. Switched back to Bryce and the difference was immediate. I currently play with 1.9 Bryce on both FH and BH on a classic Stiga Super Carbon (Alser, 1980s) and it plays great - control with power as I need it.
---
| | |
| --- | --- |
| | External Review on October 10, 2011 |
With speed glue amazing. W/o speedglue, it is not a good rubber period.
---
| | |
| --- | --- |
| | External Review on September 16, 2011 |
The bryce its a good rubber u can do good chops with ur backhand and have a good loop to its just that its hard to raise the chops because the low throw angle
---
| | |
| --- | --- |
| | External Review on June 26, 2011 |
Bryce was great with speedglue and that's it. the problem it holds is that it lacks the spin and power needed to win games. Using a Butterfly Viscaria light it does not work. the soft feel of the viscaria feel destroys the speed and makes a dead hitting sound. stay away from this rubber and get a tensor for the same price. the tensor may not be as durable, but you would ratehr have a rubber that would spin off the table than a durable rubber

View all 25 Reviews