Blade Sealing Service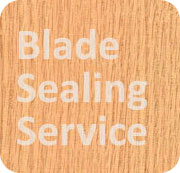 Price: $2.50

Sealing service for 1 blade.
Please add this service after adding blades to your cart.
Sealing is not available for Killerspin blades for the time being.
We will seal your blade to make it easier to remove your rubber sheets and prevent the wood from splintering.
It is not recommended that you use Vulcanizing glue after requesting this service since it will remove the effect of the sealer.
You may also purchase the JOOLA Blade Sealing Varnish.

---
Customers who purchased Blade Sealing Service also purchased:
Ordering Information
Blade FAQ and Guide to Choosing a Blade - what you need to know when buying a blade.
Compare Blades - side-by-side blade rating comparison.
Blade weight Please note that the actual weight of a blade may vary by up to 8g.
Free shipping over $50 to continental US locations.
Best Price Guarantee We guarantee to have the lowest prices (shipping included) when compared to US table tennis stores. Please tell us if you find a lower USA price.
Reviews
Submit a short review about Blade Sealing Service.