Yasaka Sweeper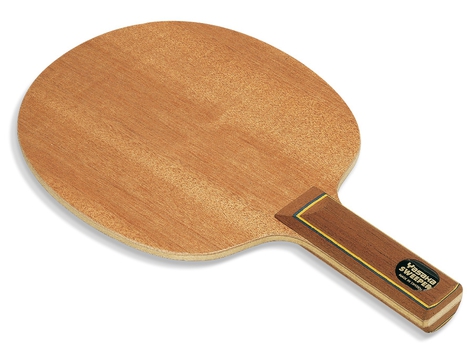 Price: $44.95

Introducing the new Sweeper blade from YASAKA.
This new blade is designed especially for the demanding defensive player, who is searching for optimum soft ball control and exceptional touch.
Speed: 65
Control: 89
Weight: 88g
---
Customers who purchased Yasaka Sweeper also purchased:
Ordering Information
Blade FAQ and Guide to Choosing a Blade - what you need to know when buying a blade.
Compare Blades - side-by-side blade rating comparison.
Blade weight Please note that the actual weight of a blade may vary by up to 8g.
Blade Sealing/Varnish
You may
add blade sealing
for this blade. Sealing prevents wood splintering.
Free shipping over $50 to continental US locations.
Best Price Guarantee We guarantee to have the lowest prices (shipping included) when compared to US table tennis stores. Please tell us if you find a lower USA price.
Reviews of Yasaka Sweeper (2)
Submit a short review about Yasaka Sweeper.
| | |
| --- | --- |
| | External Review on July 18, 2013 |
i have bought this wood as a replacement for a Donic Testra AR Plus that i used for a defensive play .
the blade ( made in Sweeden ) has a dimension of 160/160 mm, much larger than anything i have used , but is very light . it's composed of 5 layers ( don't know the wood type ) which sound a bit strange , if the rubber is very very soft or has a small thickness . still , the sounds is not that important . the control is fantastic . the build quality is around 8.5/10 . thickness is around 5.5 mm . the handle is ST , with a length of 100 mm , with the grabbing part of around 85 mm . the handle is shorter with maybe 10-20 mm than the ones of any kind of blades in this categories but the concept is good because it helps when you twiddling the blade and also it reduces the overall weight of the blade .
as i said before , the control is fantastic , although i would advice some training for the " defensive art and how to properly master the wood " , because with a small movement of the wrist you can alter the trajectory of the ball . still , the ball goes where you want it to , as the wood is forgiving with the user , but if you're aiming for the table's edge , well that is a different story ( see previous sentence ) . there's no vibration to my wood and if there is i hardly felt it which for me is a big plus .
you can easily play from close to the table and it's simply superb at blocking with FH or BH , and from mid-distance ( 2 m away from the table ) but going over 2 m would require a good swing from the player in order to place the ball on the table . still , if you get a medium-soft ( in the worst case a medium one ) rubber for the FH , it would make it easier for the player to play at bigger distances , and wouldn't ruin the game at close distance . i wouldn't recommend a pimple-pit rubber with no rubber on it ( OX type ) mainly because this was the recommendation i got from a friend of mine and also because the blade is soft enough to adsorb the shock of the incoming blade pretty quickly , which means in order to place it on the table you would need a bigger swing . you already have enough control with the blade , so extra more is not required . so i played it safe and my pimples-out rubber has a 0.5 mm sponge .
overall , a very good blade , that would impress the defenders and also any ALL players that play close to the table or at medium distances . the wood is perfect for modern defense !
my configuration : Yasaka Sweeper . FH Tibhar Nimbus 2.0 . BH TSP Curl P-1 0.5 mm
---
| | |
| --- | --- |
| | External Review on February 24, 2010 |
This is a very good defensive blade from Yasaka.

Quality: I have purchased Yasaka products before and I have always found their products to be of very good quality. The Yasaka Sweeper is not different. The blade I received was flawless, quality wise. The layers of wood were even, the grain was nice, and the handle was well made. For a $40 price tag, this blade is definitely a good buy, because I think the quality certainly surpasses forty dollars.

Playing characteristics: This blade, as expected, is slow and very controllable. I have Gambler Reflectoid (2.0mm sponge) on the forehand and RITC 837 long pips (1.0 mm sponge) on the backhand. Close to the table, the blade is great for pushes and blocks - the ball can be placed anywhere on the table. Also, despite the speed rating, it is easy to attack with this blade close to the table. Even with a slow inverted rubber, I am able to perform put away shots with a full swing.
I play away from the table, using long distance chops to set up mistakes to which I can come in a finish the point. This blade is great for this style of play. The blade is a little over 80 grams and has slightly oversized blade dimensions, as most defensive blades. The weight is just right: it is light enough to maneuver the blade when defending, yet it is heavy enough to still pack a punch away from the table. So, along with the bigger blade size, long-distance chops are easy to perform. This blade will not by any means be able to sustain a high speed long distance rally, but with the right rubber, preferably a spinny one, a player can generate shots with lots of topspin or sidespin from longer distances. The handle of the blade has a nice feeling. It is almost entirely round, with the exception of the top and bottom of the handle that is flattened. The product is a handle that allows plenty of grip for chops and topspins, while still retaining the ability to twiddle. I have also found the wood in the handle to be nice for absorbing sweat.
Overall, Yasaka Sweeper is an excellent defensive blade. Any defender looking for a quality blade that doesn't come with the Butterfly price tag should certainly look at the Sweeper. I know that this blade is not that well known or marketed, but it is definitely worth having as a defensive blade.