Yasaka Sweden Classic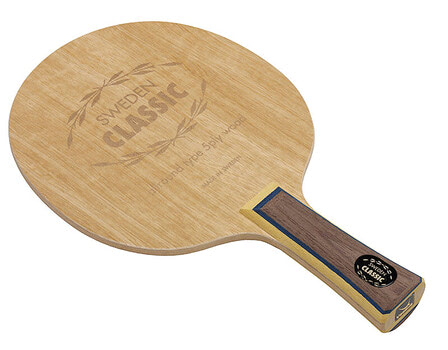 Price: $39.95
$44.25
Save $4.30 (10%)

Unsurpassed ball feeling gives a perfect blade for players that can mix technical attack near the table and topspin play short distance from the table. Also a favorite with defensive players, due to superb control.
Speed: 65
Control: 92
Weight: 82g


---
Customers who purchased Yasaka Sweden Classic also purchased:
Ordering Information
Blade FAQ and Guide to Choosing a Blade - what you need to know when buying a blade.
Compare Blades - side-by-side blade rating comparison.
Blade weight Please note that the actual weight of a blade may vary by up to 8g.
Blade Sealing/Varnish
You may
add blade sealing
for this blade. Sealing prevents wood splintering.
Free shipping over $50 to continental US locations.
Best Price Guarantee We guarantee to have the lowest prices (shipping included) when compared to US table tennis stores. Please tell us if you find a lower USA price.
Reviews of Yasaka Sweden Classic (9)
Submit a short review about Yasaka Sweden Classic.

View all 9 Reviews
| | |
| --- | --- |
| | External Review on November 14, 2013 |
One of the best allround blades available. Great for a wide range of players from beginners to experienced control/defensive players. Large ST grip. This blade can become offensive with tensors with fine touch. Makes a great pips/inverted combination for close to table play. Excellent build quality. Excellent for looping close/mid distance from table. Lacks some power away. A classic blade from Yasaka. Made in Sweden.
---
| | |
| --- | --- |
| | External Review on March 2, 2013 |
Great allround blade. Soft and flexy. You can play every style you want with this blade, maybe it's regullar size makes it slightly worse in classical defense but it is still very good. I've tryed to pair it with:
1) Donic Baracuda - great spin with excellent touch. It was ok close to the table but lacking power from mid distance.
2) Tenergy 05 - excellent match. It's feel and speed was great (even in mid distance - it wasn't like a bomb but still capable to earn points).
3) Globe 999 Nat - slow and dead without speed glue, very good with it (nice speed - around Baracuda, awesome spin, high throw). I'd say this could work as a forehand rubber for long pimple players.
4) Palio Thor's. Good close to the table but lacking speed in mid distance. Thor's is an excellent rubber but requires an offensive blade for successful attack.
---
External Review on May 13, 2012
Very nice with a fast medium hard rubber like tenergy 05/ vega pro.
---
External Review on October 9, 2011
Great blade . Everything written above is totally confirmed .
The handle (I have anatomic) makes wrist movements more effective . Those who have huge hands may not appreciate it .
---
| | |
| --- | --- |
| | External Review on September 19, 2011 |
The best overall blade ever. Been playing for several decades and always comes back to this one. Its a pure art.

View all 9 Reviews