Yasaka Mark V XS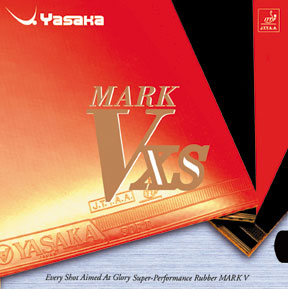 Price: $45.95

The Mark V "family" of rubber sheets are the most famous among the top players all over the World. The aim was, when developing MARK V XS to offer a rubber with superior spin characteristics without losing to much speed. The way the Yasaka technicians achieved this is: - the balance or raw material for the top sheet was changed - some new chemicals where added - the production process is improved The result is D.A.T., D ouble A cceleration T echnology, which gives the rubber extremely strong spin possibilities and good speed.
Speed: 94
Spin: 91
Control: 81
---
Customers who purchased Yasaka Mark V XS also purchased:
Ordering Information
Rubber FAQ and Guide to Choosing Rubber - what you need to know when buying rubber.
Compare rubber ratings - compare ratings to other sheets.
Free shipping over $50 to continental US locations.
Best Price Guarantee We guarantee to have the lowest prices (shipping included) when compared to US table tennis stores. Please tell us if you find a lower USA price.
Reviews of Yasaka Mark V XS (10)
Submit a short review about Yasaka Mark V XS.

View all 10 Reviews
| | |
| --- | --- |
| | External Review on November 18, 2012 |
This version of Mark V is a bit faster with the same spin and almost the same control. The quality of the top sheet is superb and is always the same from sheet to sheet. I recommend this rubber to players who dislike tensors and want more "direct" speed and spin. The price is higher than the regular version but has a long life if kept clean and in a case. Mark V XS has a medium low throw and is great for all the shots in table tennis. Loops are spinny and fast, counters quick and the short game very controllable. Mark V Family Rules!
---
| | |
| --- | --- |
| | External Review on October 3, 2012 |
I am reviewing a 1.8mm black using on my forehand side. I find this to be a fairly spinny rubber with loads of control. It is not too fast. The sponge feel medium or so in hardness with a nice soft topsheet with some mild tackiness. I find it a fantastic rubber for looping with a nice low fast arc and very easy to control. It pushes with real control although I don't find it as easy to chop with. It seems to block well. It has enough dwell time for me but is reasonable at this thinner sponge level for flat hitting. A good all round rubber I think and a good alternative to some of the slightly softer chinese rubbers.
---
External Review on May 29, 2012
graduating to this rubber I had to get used to the higher throw. Control against spinny serves and loops was a challenge. However as I used it more and more, i began to appreciate it better. The rubber enabled me to change my over-defensive game to a more and more looping attack! I now loop or drive more balls which I would have earlier pushed. This of course helps me win more games. Spinny serves takes opponents by surprise sometimes - especially players of lower ability to handle spins.
---
| | |
| --- | --- |
| | External Review on May 8, 2011 |
THIS rubber is faster then bryse speed fx, also you can control the ball easily with the amount of speed this rubber has.

looping is amazing too.

you can easily play with a player with a tenergy rubber
---
| | |
| --- | --- |
| | External Review on April 30, 2011 |
This rubber is amazing. its SPINS are very fast as well as its SPEED. LOOPING is excellent and very fast. backhand front spins have a low trajectory which makes the ball harder to hit by the opponent. true to its word, the balls speed increases as per the DAT technology, speed increasing on hit.
With practice this rubber can be easily CONTROLLED. overall this rubber beats the previous older version mark 5 easily. it should, however be noted that this rubber IS NOT in the sriver class of rubbers as this rubbers performance IS BETTER then butterfly's bryse fx.
overall this rubber is high quality for a lower price.

-note that this rubber is better then mark 5, bryce speed.

View all 10 Reviews