RITC 729-2 Sensor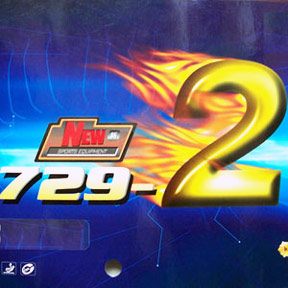 Price: $14.00

Sorry, this item is currently out of stock. You may ask us to send you a restocking notification when this item is back.
This product is engineered to provide firm traditional power with the ability to loop away from the table. New 729-2 has the quick power close to the table that has made Chinese rubbers so successful in dominating world class table tennis. 729 Chemists and formulary experts have found how to add away form the table power in addition to the traditional Chinese over the table attack. This product plays smooth with surprisingly good control for a rubber so quick.
* High speed inverted rubber
* Fast attack
* For close or away from the table play
* Made with Special Sensor sponge.
* ITTF/USATT/CTTA approved
Specifications:
Speed: 120
Spin: 110
Control: 100
2.2mm Special Sensor sponge
---
Customers who purchased RITC 729-2 Sensor also purchased:
Ordering Information
Rubber FAQ and Guide - what you need to know when buying rubber sheets.
Compare rubber ratings - compare ratings to other sheets.
Free shipping over $50 to continental US.
Best Price Guarantee We guarantee to have the lowest prices (shipping included) when compared to US table tennis stores. Please tell us if you find a lower price.
Reviews of RITC 729-2 Sensor (11)
Submit a short review about RITC 729-2 Sensor.

View all 11 Reviews
| | |
| --- | --- |
| | External Review on February 3, 2014 |
Very good rubber but not an excellent choice for Championship plays.
---
| | |
| --- | --- |
| | External Review on June 16, 2011 |
Hard sponge (i think about 48) , very good control for short push, chop, block. Topspins are possible but with good technique.
Hitting is good but indeed not hyper speedy.
Good rubber for the backhand to slow the game down and to disturb opponent with short pushes. Very good at service return (tested against a B4 class Belgian player, i would say 2400 usatt rated).
No catapult effect at all compared to german tensors !
---
External Review on January 24, 2011
Only about the 5th rubber I have used--so take this for what it is worth. By far the fastest rubber/sponge combo I have used. I will have to get used to the speed to keep return shots on the table. Spin is real good for serves and short game. It seems to have plenty of grip for looping as well. Sponge is much harder/more dense than I am used to. I was a fraid it wouldn't grip, but the top sheet is tacky enough that it still grabs and spins plenty.
---
External Review on July 22, 2010
Excellent rubber, very good control.
Non-tacky top sheet. Black is soften than red.
---
| | |
| --- | --- |
| | Review by el_flaco on June 14, 2010 |
great rubber. good speed and spin. is good for the forehand.it is feels better with the speed glue.

View all 11 Reviews