Friendship Super 729 FX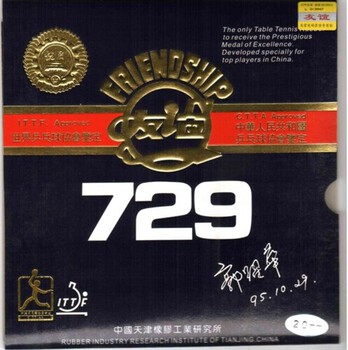 Price: $9.95


$15.00
Save $5.05 (34%)

FRIENDSHIP "SUPER 729 FX" is one of the oldest Chinese rubber sheets. Super sticky rubber surface. Capable of generating strong spin. Excellent for consistent power players requiring more control. Orange sponge and better quality!
Speed: 80
Spin: 94
Control: 82

---
Customers who purchased Friendship Super 729 FX also purchased:
Ordering Information
Rubber FAQ and Guide to Choosing Rubber - what you need to know when buying rubber.
Compare rubber ratings - compare ratings to other sheets.
Free shipping over $50 to continental US locations.
Best Price Guarantee We guarantee to have the lowest prices (shipping included) when compared to US table tennis stores. Please tell us if you find a lower USA price.
Reviews of Friendship Super 729 FX (31)
Submit a short review about Friendship Super 729 FX.

View all 31 Reviews
| | |
| --- | --- |
| | External Review on October 2, 2013 |
Very thick and hard top sheet. Very slow rubber. Extremely hard to loop with. Suits chopping and pushing with thin sponge.
---
| | |
| --- | --- |
| | External Review on August 5, 2013 |
| | |
| --- | --- |
| | External Review on June 23, 2013 |
Great rubber.
But not for me.

It's very slow.
But a hard fullhit make it seem offensive.
Blocks are often low and fast.

Great for push and serves if tecnique is right.

Red sheet have always orange sponge and less tack. Seems very elastic and bouncy. The black comes with orange and blue sponge. The one with blue sponge have more tack and the sponge is harder.
It's especially made for forehand.

Maybe great and very offensive on something like Avalox Blue thunder 555 or 777.
---
External Review on May 16, 2013
This is a classic Chinese style tacky top-sheet with very firm sponge. The sticky surface makes it easy to impart lots of spin in serves. It is also very sensitive to incoming spin. This may or may not be a good thing. It forces one to be very alert to what the opponent is doing and to respond appropriately. It is easy to loop, chop and push with this rubber. Control is good. Excellent for 3rd ball attack and close to table play. It may be somewhat lacking in loop to loop rallies. When I use it on the FH, I prefer to hit drive the ball into the sponge in order to get speed and control. Hits/drives and loops give a crisp ball impact sensation. There is no catapult effect, so for speed and penetration, there must be good body/stroke mechanics. Hence, it is a good training rubber. The spin can be very high Compared to the latest tensors, it is slow and not lively. Often, players who use this rubber put it on a blade with some flex. Playing away from the table requires much effort. The rubber is cheap and durable.
---
| | |
| --- | --- |
| | Review by thor on October 28, 2012 |
Great for beginners, very forgiving while looping and yet still moderately fast and spinny. Great control, okay speed and good spin. VERY cheap

View all 31 Reviews