RITC 729 Dr. Evil Pips Out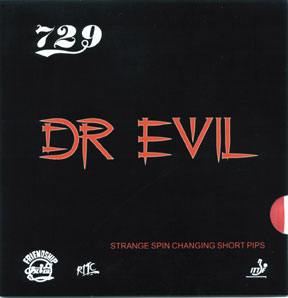 Price: $9.95

729 Dr. Evil short Pips-Out
Special formulation of natural and synthetic rubber compounds make this pip rubber very strange. The formula not the length of the pips is what gives this rubber its ability to chop, bump, smash, and manipulate spin all with unparalleled control. Dr. Evil can glass under a ball one shot and generate spin on the next. This product is durable! broken pips are rare even during robot practice. Unlike "classic" hard bat rubbers, Dr Evil is able to handle high amounts of incoming spin, making this rubber an excellent choice for players who play in open sponge events.
- Short Pips out
- Strange Effect on ball.
- Will produce deceptive shots.
- Good spin reversal.
- Excellent smash/flat kill.
- Can chop from distance or close to the table.
- Rock hard rubber for maximum spin reversal.
- Thick base sheet designed for OX use
Speed: 70
Spin: 50
Control: 90

---
Customers who purchased RITC 729 Dr. Evil Pips Out also purchased:
Ordering Information
Rubber FAQ and Guide to Choosing Rubber - what you need to know when buying rubber.
Compare rubber ratings - compare ratings to other sheets.
Free shipping over $50 to continental US locations.
Best Price Guarantee We guarantee to have the lowest prices (shipping included) when compared to US table tennis stores. Please tell us if you find a lower USA price.
Reviews of RITC 729 Dr. Evil Pips Out (5)
Submit a short review about RITC 729 Dr. Evil Pips Out.
| | |
| --- | --- |
| | External Review on April 16, 2011 |
Good control, easy to chop with. If you block, it creates a knuckle ball, it doesn't really reverse the spin. It feels too slow sometimes (maybe I'm just not used to it).
---
| | |
| --- | --- |
| | External Review on February 11, 2011 |
I glued an Ox sheet on the sponge of some RITC 2000 Tackspeed in 1.8mm tickness.
This makes it even harder, but gives you some attacking possibilities.
I put this on the BH of a Yinhe MC-1 off blade with 729 5 2.2mm on the FH.
Flat hitting makes the ball skid off the other end of the table, chopping produces a float effect. If you punch block I have to judge the speed of the ball as it tends to just drop of your bat and hit your side of the table, to hard and it floats off the other end.
Takes some getting use to, as I am normally a two sided hitter/looper.
Caused my opponent some problems for a leg but he then got used to it's effect.
---
| | |
| --- | --- |
| | External Review on December 12, 2009 |
I bought this stuff since it is on the approved hardbat list and is cheap compared to some of the other stuff. I have it on a DONIC Esprit defensive blade and it works well, My other hardbat is a Gatien Yasaka allround with Yasaka A-1-2. The Dr Evil is slightly less lively. I play spong pips on my back hand in open play and stroke about the same. I don't think its all the weird. Don't put sponge under the stuff!!

For hardbat I like it. I will try playing against some spinners to see how it works in that venue. I rated the rubber high for hardbat-where control is the main issue
---
| | |
| --- | --- |
| | Review by mattsh on May 11, 2009 |
Nice and deceptive rubber. I use it on my backhand and am able to counter spin easily and still chop the ball effectively. Not a lot of feel since there is no sponge. I do get winners with the knuckleball effect.
---
| | |
| --- | --- |
| | External Review on March 29, 2009 |
Haha this is a fun rubber to play around with. It is a pips out rubber, it is ideal for hard bat players, because the feel of it is just so awkward. The rubber feels so hard, it almost seems like the rubber is dried out (but its not). Its really fun to play with, because you can return a killer loops as a barely moving floating ball, for exmaple. The control is very fun, you can control the spin reversal, the placement, and the depth of the ball vastly. You can also chop with it (and it is very strange chop feel) and also smash with it. This is what a lot of top hard bat players use.