Killerspin Blast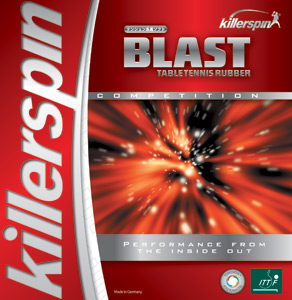 Price: $49.99

Detailed Killerspin Blast Review
Killerspin's new BLAST is cutting-edge rubber made especially for advanced skill, topspin players looking for extra power. Like Killerspin's Fortissimo, the Blast's rubber consists of a hybrid topsheet made of an elastic compound, which generates amazing rebound, as well as a soft compound that helps grab the ball and create more spin. Equal components of natural and synthetic rubber give an extra spring effect. However, the Blast's topsheet is stiffer than that of Fortissimo, generating extra power for a wicked shot. The Blast also features a made-in-Japan soft sponge, ideal for powerful topspin shots with great control, and German "Torqsion TechnologyTM", which is stronger than normal tension standards, and gives the rubber an added performance edge.
Watch the rubber in action below (0:17 onwards). The blade used is Kido 7R (this has been discontinued but Kido 7P is very similar. The racket in the first 16 seconds is Killerspin RTG Diamond TX Premium.
Ratings
Speed
108
Spin
93
Control
93
Available thicknesses
2.0mm, max
Weight (cut to racket size)
42-43g
---
Customers who purchased Killerspin Blast also purchased:
Ordering Information
Rubber FAQ and Guide to Choosing Rubber - what you need to know when buying rubber.
Compare rubber ratings - compare ratings to other sheets.
Racket Assembly Limitation: We regret that we currently can only assemble this rubber sheet to a Killerspin blade.
Free shipping over $50 to continental US locations.
Best Price Guarantee We guarantee to have the lowest prices (shipping included) when compared to US table tennis stores. Please tell us if you find a lower USA price.
Reviews of Killerspin Blast (4)
Submit a short review about Killerspin Blast.
| | |
| --- | --- |
| | External Review on April 12, 2012 |
Not bad, best when off the table looping. On the table offense is inconsistent. Blocking is terrible. Hard sponge, with not much tackiness, for advanced players.
---
| | |
| --- | --- |
| | External Review on August 19, 2010 |
Okay, i tried this rubber out due to killerspin sending me this rubber for writing reviews for them. This rubber actually impressed me because at the beginning i thought it'd completely be useless to me. However, i slowly started to find out that this rubber is VERY fast, and decently controlled. it reminds me a little bit of tenergy but the durability seems to be a bit better. However, for every good thing, theres a bad thing and i feel like this rubber does not have as good feeling as tenergy does on the loop.

This rubber is general is not bad. The rubber is quite hard and i guess if anybody wants a rubber thats fast and wants to finish the point fast then this wud be great! Killerspin products will slowly get better and better and dont be surprised if butterfly rubber aren't the only top products on the market
---
| | |
| --- | --- |
| | External Review on March 31, 2010 |
Very high throw and strong grip.
Recommended for advanced players. It can be teared slight if you bang / scratch it against something hard... pretty good loops and topspin..bad for def game
---
| | |
| --- | --- |
| | Review by spinshot on November 28, 2009 |
BLAST is the first rubber in a long while that shows no weakness. I glued it with BTY Free Chack and it has all the power of the usual "Tensor" suspects (but the ball doesn´t bounce off it uncontrollably when blocking) and one distinctive advantage: this rubber really can produce spin. Looping - whether slowly as first ball or hard and fast as winning point - is a joy, and I have found it easier to loop and push back against heavy underspin and spin variation than with any other rubber I´ve tried lately, when playing against defence. The sponge feeling is moderately soft (softer than my Nianmor and much softer than my Coppa Speed). The pricing is competitive as well and the quality seems above usual standards (time will tell). I play this rubber in maximum thickness on a Killerspin Diamond TC blade and I recommend all types of spin attack players to give BLAST a try.