Donic Slice 40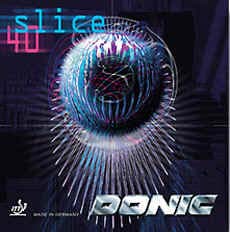 Price: $43.95

The new DONIC SLICE 40 has the new sophisticated pimple design of the SUPERSONIC, but with a different, softer rubber surface tuned for defensive strategies. It is remarkably quicker than the well proven Slice rubber in its standard version. It offers more chop possibilities and more trickiness when defending with the 40 mm ball. The DONIC SLICE 40 is not only for control, but it also has very good offensive characteristics for top-spin and counter attacks.
Speed: 66
Spin: 91
Control: 80

---
Customers who purchased Donic Slice 40 also purchased:
Ordering Information
Professional racket assembly is offered on most orders free of charge. Please add a blade and 2 rubber sheets to the shopping cart to activate the racket assembly option on the shopping cart page. See Racket Assembly FAQ. You may also want to assemble your blades and rubber sheets yourself.
Instead of choosing rubber sheets and a blade, you may select a ready-made racket from our rackets section.
Rubber FAQ and Guide to Choosing Rubber - what you need to know when buying rubber.
Compare rubber ratings - compare ratings to other sheets.
Free shipping over $50 to continental US This applies on all items except Newgy items.
Best Price Guarantee We guarantee to have the lowest prices (shipping included) when compared to US table tennis stores. Please tell us if you find a lower USA price.
Reviews of Donic Slice 40 (3)
Submit a short review about Donic Slice 40.
| | |
| --- | --- |
| | External Review on January 9, 2013 |
After few hours. Everything written above is confirmed. I put a sheet of 1.5 on my BH to experiment with. Nice chops and great control. Looping ability is sufficient, flat, well-placed strokes can disturb your opponent's ballance. With BF M2 on FH one can kill forced high returns.
1st update. Close to horizontal orientation strokes are needed (compared to M3) you are just supposed to push your bat in the direction required. Huge control , as I suspected, perhaps due to the 1.5 thickness of the rubber , I presume. To my great astonishment it is quite easy to lift underspins. My opponents are called with their trousers down by difference in speed (Fh Bf M2 , Bh Slice40) and really heavy chops :) I cannot help annoying them.
---
| | |
| --- | --- |
| | External Review on December 17, 2011 |
I have this on a Stiga Tube Carbo OFF blade as backhand rubber. I have a fast Rakza 7 as forehand. Even though my blade is supposed to be a little higher in weight this combination makes the racket feather light. (I got mine pre assembled so cannot tell the weight of the Slice 40.) Even though this rubber is slow the fast blade makes it faster. It is the perfect combination to my offensive forehand. The difference in the speed compared to forehand really throws the opponent off. I can easily push short serves and then once I lift the backspin with my forehand then I can continue the topspin attack with this. Specially the control is great. I can do pinpoint topspins to the two corners of the table with this. This rubber is a great way to tame a fast blade.
---
| | |
| --- | --- |
| | External Review on March 24, 2010 |
Impressive consistency and pin-point accuracy when used on backhand chop/slice (as the name suggests). Deft touches are a delight. Applying varied spin is a piece of cake often catching opponents off-guard. especially good if you have an attacking game you can switch to in an instant (I use this rubber on the flip-side to an attacking forehand). Although quite slow, flat hitting has enough speed to put the point to bed (and incredible control means that the ball can be placed accurately at speed). Good for close to the table arching spinny backhand loops too. I've found durability to be better than the more offensive Donic rubbers I've used. All in all I have very little to criticise about this product.