Donic Quattro Formula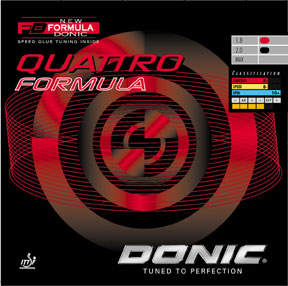 Price: $40.95
$45.95
Save $5.00 (11%)

Incorporates Speed Gluing Effect, But Is Not Too Fast
Experts have known it for a long time: while speed gluing makes rubber faster, the dominant effect is to make the rubber softer and - at least subjectively - to produce better ball control - despite the speed-glued rubber being spinnier and faster.
By adding Formula tuning to our QUATTRO rubber, we have increased the performance, but we have limited the speed to ensure that you can easily keep the rubber under control. As a result, new QUATTRO Formula rubber incorporates all the traditional advantages of speed glue, while giving more ball control and higher precision. This makes QUATTRO Formula ideal for allround players and players who prefer good ball control.
No other rubber has ever provided such a good feeling with relatively high speed.
DONIC QUATTRO Formula
Relatively High Speed with Four Times the Feeling.
Speed: 83
Spin: 93
Control: 74
---
Customers who purchased Donic Quattro Formula also purchased:
Ordering Information
Rubber FAQ and Guide to Choosing Rubber - what you need to know when buying rubber.
Compare rubber ratings - compare ratings to other sheets.
Free shipping over $50 to continental US locations.
Best Price Guarantee We guarantee to have the lowest prices (shipping included) when compared to US table tennis stores. Please tell us if you find a lower USA price.
Reviews of Donic Quattro Formula (8)
Submit a short review about Donic Quattro Formula.

View all 8 Reviews
| | |
| --- | --- |
| | External Review on April 28, 2013 |
Not so fast but very controllable and spinny rubber.
Good choice for backhandside for all-around players.
2.0mm is best option for me i really like this rubber.
---
| | |
| --- | --- |
| | External Review on August 22, 2012 |
Very soft sponge and light rubber utilising tensor. Control much better than most tensors due to the soft sponge (extra dwell time).

Quite fast though meant for spin more than speed.

Most suitable for all-rounder attack with extra control rather than all out speed.
---
| | |
| --- | --- |
| | External Review on April 15, 2011 |
Played a complete season with this rubber for backhand. never loved it, never hated it so I'm going for something different next year. currently playing coppajo silver on forehand 2.1mm and I'm thinking on trying a thinner version for my backhand. not tacky enough for me and throw angle too high for my game
---
| | |
| --- | --- |
| | External Review on April 29, 2010 |
Quattro formula is a very soft and controllable tensor with a rather high throw angle.
Compared to the F3 desto big slam it's slightly slower and more suited for agressive allrounders than attackers.

It pushes remarkably well, blocking takes a while to get used to when switching from a classic rubber due to the throw angle and softness.
Attack wise it's above average, what else did you expect from a tensor?

Definitely one of my personal allround favourites!
---
| | |
| --- | --- |
| | External Review on February 13, 2010 |
An excellent rubber for offensive players. It's a very fast rubber.

View all 8 Reviews