Donic Li Ping Kitex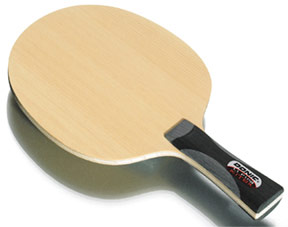 Price: $78.95

DONIC developed the sensational new LI PING KITEX blade expressly for Li Ping, a young Chinese National Team player who is one of China's hopefuls after Olympics 2008.
The LI PING KITEX blade consists of high-quality wood plies with two extra texalium inner layers.
The high-quality, hard hinoki outer plies, as well as the texalium inner plies, guarantee strength, flexibility, and power. The combination of the soft ayous inner ply and kiri middle layer produce a perfect synthesis between speed and control. If you are an attacker who, like Li Ping, has a varied topspin game, you will enjoy using this blade.
Speed:94
Control:85
Weight:90
Ply: 7
---
Customers who purchased Donic Li Ping Kitex also purchased:
Ordering Information
Blade FAQ and Guide to Choosing a Blade - what you need to know when buying a blade.
Compare Blades - side-by-side blade rating comparison.
Blade weight Please note that the actual weight of a blade may vary by up to 8g.
Blade Sealing/Varnish
You may
add blade sealing
for this blade. Sealing prevents wood splintering.
Free shipping over $50 to continental US locations.
Best Price Guarantee We guarantee to have the lowest prices (shipping included) when compared to US table tennis stores. Please tell us if you find a lower USA price.
Reviews of Donic Li Ping Kitex (3)
Submit a short review about Donic Li Ping Kitex.
| | |
| --- | --- |
| | External Review on April 5, 2013 |
This blade is AWESOMEE!!!!
Even thou I played with this blade for only 1 year, I can already conclude that this blade is one of the best blade, not only it is fast but most of all it is easy to control and handle...
---
| | |
| --- | --- |
| | External Review on January 30, 2013 |
No one put any review on this blade for years..while some people in my country said this is one of their best seller. So I bought this blade with some hesitation.

After trying, Wheeew... What a blade! Trust me, i've tried many donic blades previously, and this is their best blade IMO. The head is smaller than regular blade, but it feels very2 balance, it just feel very natural. I pair it with acuda s2 front/back.

Speed is not too fast but enough, feel, control and everything is superb! I still can't believe how come there's no review so far. I might say that this blade is better than tb alc which I also admire. The small head will actually helps you to focus your stroke.

This blade deserve highest rating from me.
---
| | |
| --- | --- |
| | External Review on January 2, 2009 |
the donic KiTex blade is a very good blade. It is a offensive typed blade that has very good speed and pretty good control. It is a very good blade for people who play a chinese style, with all around loops and extreme speed, power, and spin.

The blade is made two plies of pretty stiff wood on the outside, and with some more soft, elastic wood in the core. So, the blade has a very elastic feel to it, which also gives you a pretty good feel and control on the ball. It is also somewhat heavy, at 90 grams. Overall, i think this blade is a great buy. For only 70 dollars, it is a very nice offensive blade.