Donic Appelgren Allplay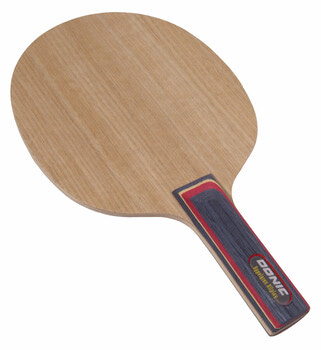 Price: $39.95

APPELGREN ALLPLAY
Highly sensitive Swedish allround blade. Depending on the rubber you combine this blade with, it is suitable for all modern table tennis strategies where ball control is most important.
It provides high acceleration reserves for a fast spin game. Appelgren Allplay the number one selling allround blade in Europe.
Speed:70
Control: 90
Weight:85
Ply: 5
---
Customers who purchased Donic Appelgren Allplay also purchased:
Ordering Information
Professional racket assembly is offered on most orders free of charge. Please add a blade and 2 rubber sheets to the shopping cart to activate the racket assembly option on the shopping cart page. See Racket Assembly FAQ. You may also want to assemble your blades and rubber sheets yourself.

Instead of choosing rubber sheets and a blade, you may select a ready-made racket from our rackets section.

Blade FAQ and Guide to Choosing a Blade - what you need to know when buying a blade.

Compare Blades - side-by-side blade rating comparison.

Blade weight Please note that the actual weight of a blade may vary by up to 8g.

Blade Sealing/Varnish You may add blade sealing for this blade. Sealing prevents wood splintering.

Free shipping over $50 to continental US This applies on all items except Newgy items.

Best Price Guarantee We guarantee to have the lowest prices (shipping included) when compared to US table tennis stores. Please tell us if you find a lower USA price.
Reviews of Donic Appelgren Allplay (11)
Submit a short review about Donic Appelgren Allplay.

View all 11 Reviews
| | |
| --- | --- |
| | External Review on April 28, 2013 |
Definitely speed isn't best parameter of this blade but conrol and feel is.
Practically you can play it everything.
Good for beginers and all-around players.
---
External Review on February 22, 2012
I have had this blade since i started playing in 1995! I have tried numerous other blades but this is the only one that has stayed with me. It is perfect for my style of play which is a modern allrounder with aggressive backhand and slow forehand loops. I honestly would not change this blade for anything.
---
| | |
| --- | --- |
| | External Review on January 22, 2012 |
If you want an allround blade that can do it all, look no further, this is the one. Combined with Butterfly 64 it will be fast and the spin is just incredible! Easy to block and push with. What you put into it will come out, so it's up to your own technique. Highly recommended!
---
| | |
| --- | --- |
| | External Review on December 20, 2011 |
Wow! Best blade I have so far. Great and i mean great control. Speed is more than adequate if you have the correct stroke and don't just rely on the blade for power. You can put a lot of spin, power and precision with this blade. It also helps that this blade has very good feel and feedback. The amount of vibrations is just right. This blade has put a lot of confidence in my strokes. I have a OSP vituoso off- that many players rave about in many TT forums but I think this blade is even better by a mile in every aspect than the vituoso off-. I think I have found the blade that is right for me.
---
| | |
| --- | --- |
| | External Review on October 5, 2011 |
Excellent allround blade. Probably the best in that speed range I've ever tried. It offers an unique combination of speed, control and feel.

It is very a very good stepping stone for developing players and and a keeper for allrounders. A true classic. Taking into account its intended strategies, there are no real drawbacks.

The only thing that may upset someone is that the FL handle tends to be thinner and wider than most FLs, but this seems to be a Donic thing.

Although it is not the best fit for my aggressive style of play, I keep it with TG3/Sriver as one of my favorite spare blades.

View all 11 Reviews