Donic Defplay Classic Senso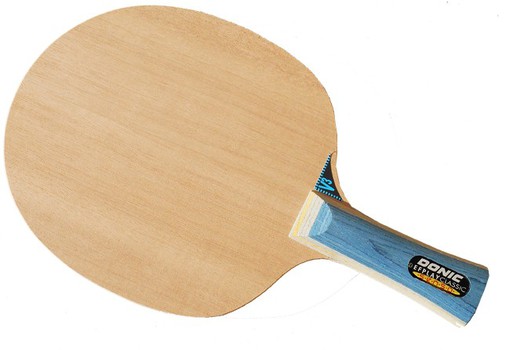 Price: $50.95

DONIC DEFPLAY CLASSIC Senso
As its name indicates, the new DEFPLAY CLASSIC Senso has been developed by DONIC blade experts for the classic defensive game. Long range defence, as well as sudden unexpected attacking close to the table, can be successfully undertaken with this new model. Weighing approximately 70 grammes or less, this blade is a light weight among the modern blades despite the larger size.
Two balsa middle plies glued together, give the DEFPLAY CLASSIC Senso fantastic control and a superb feel.
The Koto and Ayous outer plies enable the player to switch to a safe attacking game when under pressure.
DEFPLAY CLASSIC Senso - The cream of classical defensive players.
Speed: 55
Control: 92
Weight: 70

---
Customers who purchased Donic Defplay Classic Senso also purchased:
Ordering Information
Blade FAQ and Guide to Choosing a Blade - what you need to know when buying a blade.
Compare Blades - side-by-side blade rating comparison.
Blade weight Please note that the actual weight of a blade may vary by up to 8g.
Blade Sealing/Varnish
You may
add blade sealing
for this blade. Sealing prevents wood splintering.
Free shipping over $50 to continental US locations.
Best Price Guarantee We guarantee to have the lowest prices (shipping included) when compared to US table tennis stores. Please tell us if you find a lower USA price.
Reviews of Donic Defplay Classic Senso (11)
Submit a short review about Donic Defplay Classic Senso.

View all 11 Reviews
| | |
| --- | --- |
| | External Review on July 22, 2013 |
Amazing defensive blade, it was made for a modern style, you need to know how attack with accuracy, also I recommend a medium sponge rubber and long pimps with 0.5 sponge. I proved this blade with Akkadi L2 0.6 mm in the backhand and Joola Brave 2.0 mm for the forehand. It's incredible, the ball when I used the Akkadi was a crazy move with tons of chop, also the blade allows you to attack with good accuracy, you can develop this quality for your game.

The blade surprised me because the characteristics, I agree about the speed, this blade has good speed so I rated with an 8 because the impressive control.
---
| | |
| --- | --- |
| | External Review on March 17, 2013 |
Much faster than it is officially rated. This blade looked fragile to me. When I attempted to seal the blade about 100 ml of varnish (Polyurethane) just vanished in to the layers of the blade. It became harder. Definitely. May be it lost some of its original features. It has a lot of flex. Hence it gives a different feel. It seems to be a poor cousin to the much hyped defplay senso, which is hugely popular in main land China, where a lot many top-notch defenders seem to patronize it. I found it very difficult to find matching long pimples and reverse rubbers for this blade. Feint Long II with 0.5 mm sponge and Joola Topspin Chop C in thin sponge looked OK on this blade. Butterfly Tackiness Chop also worked well. Defplay senso classic seems to be very spin friendly. One can attempt topspin from far off. Long range chopping is possible. All said and done something vital is missing!
---
| | |
| --- | --- |
| | External Review on June 2, 2012 |
This blade is soft and medium stiff due to the balsa core. Great control en good feel. Not the best for topspin, but fantastic control for defensive allround play
---
| | |
| --- | --- |
| | External Review on May 19, 2012 |
Excellent blade for modern defense.
I'm using Xiom OmegaIVPro 2mm in black on the forehand.
---
External Review on February 19, 2012
I usually play with Matsushita Pro Model blade and I recently tried Defplay Senso. This blade is very soft, even softer than Pro model. Senso is lighter (mine is 72 g) and provides amazing control while choping. I would say that Senso is a little bit faster than Pro Model during offensive strokes. The Senso technology is quite efficient : marellous control but hugh power when needed, with lots of sensations... Excellent blade for modern or classical defense (my favorite with Pro Model).

View all 11 Reviews