Donic Carbo System Offensive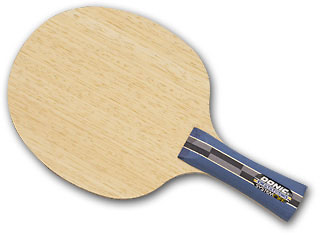 Price: $49.46
$54.95
Save $5.50 (10%)

The DONIC Carbo System Off blade is also combined with high quality wood plies with carbon fibres. This results in an especially dynamic 7-ply offensive blade of high speed, super control and relatively low weight. Attackers will have great pleasure playing with this "cracker" of a bat.
7-ply
1 ply: Koto
2 ply: Carbon/Aramid
3 ply: Ayous
Centre ply: Kiri
DONIC CARBO SYSTEM
CARBON INSIDE
- TUNED TO PERFECTION -
Carbon blades have even conquered the European table tennis market. The relatively large sweet spot (contact point of the ball), improved stability, higher speed and lighter weight speak for themselves.
DONIC Carbo System Technology
A new era has been achieved by DONIC blade specialists with the technology of the DONIC CARBO SYSTEM. The idea was to combine high quality rare wood plies with carbon fibre. This resulted in three unique high-tech products. The outer appearance of the blade, with its attractive handle design and second lens, is typical of the excellent characteristics of DONIC's CARBO SYSTEM.

Speed: 98
Control: 71
Weight 85g
Ply: 5+2
---
Customers who purchased Donic Carbo System Offensive also purchased:
Ordering Information
Blade FAQ and Guide to Choosing a Blade - what you need to know when buying a blade.
Compare Blades - side-by-side blade rating comparison.
Blade weight Please note that the actual weight of a blade may vary by up to 8g.
Blade Sealing/Varnish
You may
add blade sealing
for this blade. Sealing prevents wood splintering.
Free shipping over $50 to continental US locations.
Best Price Guarantee We guarantee to have the lowest prices (shipping included) when compared to US table tennis stores. Please tell us if you find a lower USA price.
Reviews of Donic Carbo System Offensive (2)
Submit a short review about Donic Carbo System Offensive.
| | |
| --- | --- |
| | Review by tona on September 22, 2013 |
Solid fast blade. Soft feeling with no vibration. Seems like its useful more for smooth close to the table off the bounce style of play. But definitely has enough power for mid-distance. Compact head size and light weight.Pairs better with firmer rubbers than softer sponged rubber. If the blade was a bit slower it would be more ideal.
---
| | |
| --- | --- |
| | External Review on December 28, 2008 |
I really liked this blade for the most part, but the blade head is a little small, which didn't really fit my game. It is moderately fast and has decent feedback for a carbon blade. The feeling is pretty hard but I've felt harder. Probably best used with speed-oriented rubbers. This really is a good blde but just not for me. It would work best for the offensively-minded player who puts speed before spin. Great for smashing I must say.