Stiga Allround NCT - Chinese Penhold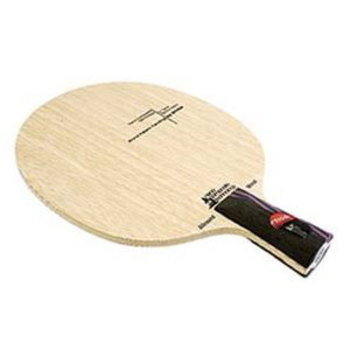 Price: $46.95

Chinese-style Penhold version of Stiga's Allround NCT blade. The balance between speed, weight and control is outstanding in the Allround Wood NCT blade. With the NCT you will hit the ball harder without sacrificing control.
STIGA NCT Wood: Changing the Way the Game is played.
The STIGA NCT blades use the latest technologies -- it is designed for the new era that begins with the ITTF speed glue ban in 2008. In fact, it employs a secret ingredient which testing has shown helps you hit the ball harder and increases the life of the blade. The new era of table tennis has started at STIGA: has it with you?
Speed: 79
Control: 77
Rating: ALL+
Thickness: 5.8mm
Weight: 72g
Construction: 5-ply
---
Customers who purchased Stiga Allround NCT - Chinese Penhold also purchased:
Ordering Information
Blade FAQ and Guide to Choosing a Blade - what you need to know when buying a blade.
Compare Blades - side-by-side blade rating comparison.
Blade weight Please note that the actual weight of a blade may vary by up to 8g.
Free shipping over $50 to continental US locations.
Best Price Guarantee We guarantee to have the lowest prices (shipping included) when compared to US table tennis stores. Please tell us if you find a lower USA price.
Reviews of Stiga Allround NCT - Chinese Penhold (11)
Submit a short review about Stiga Allround NCT - Chinese Penhold.

View all 11 Reviews
| | |
| --- | --- |
| | External Review on October 20, 2013 |
best starter blade on the market. control is the best ive played with. speed sucks, but with the precision u get who needs speed.
---
| | |
| --- | --- |
| | External Review on March 14, 2013 |
Excellent blade from Stiga for players who need full control with good speed!
---
| | |
| --- | --- |
| | External Review on March 11, 2013 |
Stiff and soft blade, not fast, good for close-to-table loopers and blockers.

In detail:

Throw: very high.

Spin: any rubbers seems to have more spin with this blade. Just great.

Speed: this blade is much faster than Allround classic, because the plies are glued with a carbon-based glue (NCT technology). So the speed is OFF-. this blade is slower than Offensive Wood NCT.

Stiffness: this blade is stiff. Offensive Wood NCT has more flex. The stiffness provides more control close to the table.


Weight: mine is 75 grams. Very light. This is a huge plus if you use heavy rubbers.

Comparison with similar blades: This blade is a faster version of Stiga allround classic. it has the same touch without being harder (whereas allround CR was faster but harder). Throw is just a tiny bit lower than allround classic.
---
| | |
| --- | --- |
| | External Review on September 22, 2012 |
I am not an expert and tried only few blades out but let me tell You this blade is a masterpiece.
The touch and feel it has is unbeatable and the speed is enough to carry out a pinpoint attack or loop drives IMHO.
Anyway,
http://stigatabletennis.com/en/2012/09/sabine-winter-a-winner-in-russia/

German STIGA star Sabine Winter winner of the U21 Girls Singles at the 2012 Russian Open!

Her winning material: Allround Wood NCT (blade) and Calibra LT Sound (rubbers).
---
| | |
| --- | --- |
| | External Review on June 19, 2012 |
It never let me down. It always is eager, willing and compliant to the demands of allround play. 10.

View all 11 Reviews