RITC 837 Tack Speed Long Pips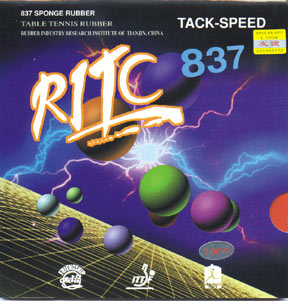 Price: $9.95

Sponge: 1.0mm Available in Black or Red.
Friendship 837 Long Pips-Out Table Tennis/Ping Pong Rubber with Sponge.
- Long Pips out rubber
- Great for almost all defensive styles
- Can generate attack
- Easy to master
- Can throw Knuckle ball effect
- ITTF/USATT/CTTA approved
If you want to learn a long-pip game this is the rubber to use. 837 is very easy to master. 837 has excellent control for a long-pip, and has enough spin to generate very tough backspin chop. 837 is NOT very deceptive, it can hit a knuckle ball for some deception but it otherwise is very predictable. 837 handles serve reception great, a light block or chop will send most spinney serves back. Block vs. topspin can be open or closed; the open shots will bounce high so make them deep.

Specifications:
Speed: 60
Spin: 60
Control: 70

---
Customers who purchased RITC 837 Tack Speed Long Pips also purchased:
Ordering Information
Rubber FAQ and Guide to Choosing Rubber - what you need to know when buying rubber.
Compare rubber ratings - compare ratings to other sheets.
Free shipping over $50 to continental US locations.
Best Price Guarantee We guarantee to have the lowest prices (shipping included) when compared to US table tennis stores. Please tell us if you find a lower USA price.
Reviews of RITC 837 Tack Speed Long Pips (10)
Submit a short review about RITC 837 Tack Speed Long Pips.

View all 10 Reviews
| | |
| --- | --- |
| | Review by 2dchopper on November 20, 2013 |
The right technique and practice is the ONLY way to improve your strokes. The key is determining the style of play that suits YOU. My style is an offensive minded chopper (modern defence) and it took me a year to finally decide the RITC 837 LP (OX) was best for me! (Tried D.Tecs, CTT Pogo, 837-755, 837-802, Milky Way Neptune & 955 all in OX) 837 ENHANCED my backhand LP attacking technique the BEST. Once I got my BH attack down, I started winning more and more games. Went from 1100 to 1900 in 8 months, mainly due to my BH lp attack which many found hard to return. My FH was already super strong (using DHS Skyline Neo III in black on a Btfy Boll Tri-Carbon blade) and now my BH is quickly catching up. Good luck!

--

Very well suited for chopping away from the table. Over-the-table requires good technique to be effective. If u intend to be a 2-rubber "Chopper", 837 lp (OX) is definitely standard equipment. One of the best n cheapest. Eventually u wanna graduate to the Btfy Feint Long II, III in OX or .5. Imo, it's the gold standard.
---
External Review on February 2, 2013
I've tried lots of pimple, it was the worst. Fast, no control, only good thing is reversal on passive strokes. On active ones, it doesent generate much beackspin.
---
External Review on October 5, 2011
i have played with 837 and 837 with spong 0.8 and 755 and nitakku screw one soft and i found the 837 the best pips ever.good control .good offense not really deceptive.so if you looking for good long pips .this is the one.
---
| | |
| --- | --- |
| | External Review on May 17, 2011 |
You can attack with this long-pip rubber especially if you hit the ball at its peak and if it is slow. passive blocking close-to-table is quite difficult but stil possible. chopping from about two to four meters away from the table is accurate in terms of directional control, but chops are not as spinny so you can't expect your opponent's shot to go straight to the net. spin-reversal is not as much as other long-pip rubbers. therefore, the spinny serves of your opponent tend to be killed and not reversed. occasionally, i use this to smash the ball when an opponent returns three or four of my smashes -- this usually confuses opponents and the ball ends up in the net or even under the table.
---
| | |
| --- | --- |
| | External Review on March 11, 2011 |
This was my first long-pips rubber, probably my last as well. The sheet I received may have been defective, but I had trouble getting a good attachment to the blade, and the rubber began to tear after one session of play. It has great deception and pushing short is almost flawless. It's high control helps in the chopping game but it doesn't provide much spin reversal The rubber really shines in blocking, it can return any shot effortlessly, normally with ankle-breaking knuckle. It could work in conjunction with a short game, but I couldn't make use of it in my long chopping play.

View all 10 Reviews