Killerspin Diamond TC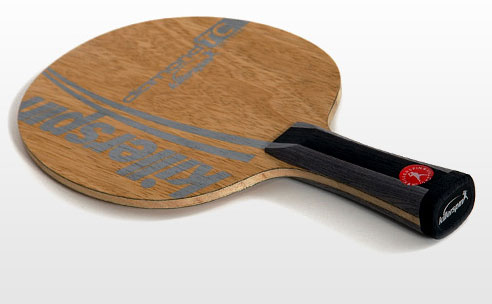 Price: $160.99

This is a sealed blade - the surface is varnished for ultimate protection.
The Killerspin Diamond Series Blades were designed by the Killerspin Engineering Crew to satisfy the requirements of The World's Top Players and YOURS. The Diamond Series Blades use highly engineered Composite Materials that will help you produce both phenomenal power and control.

Our Diamond TC is our most explosive blade. This blade was engineered for those players that has an aggressive style and is always in the look-out for that extra kick of power. If you are looking to intimidate your opponent, the Diamond TC is for you.


Specifications
2TCL (2 Titanium-Carbon Layers) Technology
Dimensions: 6" x 6 3/16"
Weight: ~83g (fl, st)
7 Layers, 6.0mm thick
Ratings
Speed
100
Control
80
---
Customers who purchased Killerspin Diamond TC also purchased:
Ordering Information
Blade FAQ and Guide to Choosing a Blade - what you need to know when buying a blade.
Compare Blades - side-by-side blade rating comparison.
Blade weight Please note that the actual weight of a blade may vary by up to 8g.
Free shipping over $50 to continental US locations.
Best Price Guarantee We guarantee to have the lowest prices (shipping included) when compared to US table tennis stores. Please tell us if you find a lower USA price.
Reviews of Killerspin Diamond TC (6)
Submit a short review about Killerspin Diamond TC.

View all 6 Reviews
| | |
| --- | --- |
| | Review by rickbhasin on July 31, 2011 |
Just got this Blade with KS Fortissmo on both FH & BH.
Super fast.
Play a offensive game from the word go. And if you love smashing the ball, believe me this is a great blade.

---
External Review on December 9, 2010
Very fast blade. It's like an explosion bomb. But I don't agree with control. It don't has any control. You feel like a 'rebound' wall.
---
| | |
| --- | --- |
| | Review by spinshot on January 2, 2010 |
Excellent quality meets incredible touch. I was through with carbon blades before I tried this, but it´s definetely going to stay my weapon of choice. Very good feedback at high speed. Try it with Blast or something a little softer.
---
| | |
| --- | --- |
| | Review by spinshot on December 24, 2009 |
High quality meets high performance - I had already given up on carbon blades altogether, but the Diamond TC has a decidedly softer touch than BTY Viscaria or ALC. Whoever plays with my racket in practice (over here in Germany Killerspin is exotic so they want to) is deeply impressed. I have not yet found such power and control in one place.
---
| | |
| --- | --- |
| | External Review on November 2, 2009 |
Material and construction are top notch, much like most killerspn blades I've played with. For a composite blade, the speed and control seem to no fall into the typical inverse relationship (more speed, less control). This blade provides a great amount speed without sacrificing control. The only drawback to this blade, comes to my choice of handles... I feel the handle is a little to narrow for my hands. But I'd like to point out the fact that this is my personal preference on handle size, and not the performance of the blade. (I also might be a little bias/disappointed because I have a different Killerspin flared handle that fits my hand perfectly).

View all 6 Reviews