JOOLA MC1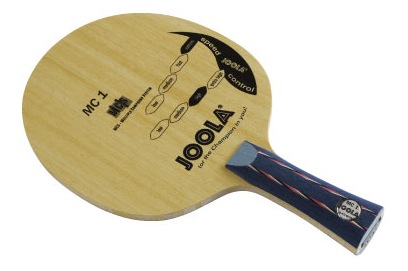 Price: $99.95

Sorry, this item is currently out of stock. You may ask us to send you a restocking notification when this item is back.
The JOOLA MC 1 makes you forget all speed data known so far. Our new MCS° - MULTI COMPOUND SYSTEM makes the blade so fast that we had to make it a new classification: OFF².
MCS-System: 3 mm thick Koto and 6mm Balsa layers of various widths are block glued and afterwards cut accross for an unbelievable stabilizing middle layer.
This MCS-System does not only make the blade fast but also clearly increases flexibility. The excellent result of the JOOLA MC 1 is the feeling of unbelievable speed with control.
Type: OFF+
Speed: 100
Control: 58
Bending Resistance: 105
Weight: 80g
---
Customers who purchased JOOLA MC1 also purchased:
Ordering Information
JOOLA Blades Comparison Chart
Blade FAQ and Guide to Choosing a Blade - what you need to know when buying a blade.
Compare Blades - side-by-side blade rating comparison.
Blade weight Please note that the actual weight of a blade may vary by up to 8g.
Free shipping over $50 to continental US locations.
Best Price Guarantee We guarantee to have the lowest prices (shipping included) when compared to US table tennis stores. Please tell us if you find a lower USA price.
Reviews of JOOLA MC1 (18)
Submit a short review about JOOLA MC1.

View all 18 Reviews
External Review on December 20, 2012
I wrote a review on this blade here:

http://tabletennisonline.org/blades/joola-mc1-review/
---
| | |
| --- | --- |
| | External Review on May 14, 2012 |
You must be smart, patient and have a good technique to control the power of this blade. need some time to get used to it. great speed and ability to spin the ball. exelent block. flat punches are flying like bullets. good feel and dwell. i love it
---
| | |
| --- | --- |
| | External Review on May 9, 2012 |
I have one with anatomic handle, got mine new in France one month ago for 28¬

Pros :
-Fast Blade !
-Quite Big surface
-Big and fat handle !!! this is very important for me, I have big hands and most of the blades have tiny little handles
-Let you "feel" the ball good dwell time

Cons :
-Edgy (I got around this by sanding the edges)
-Thick (you may or may not like)
---
| | |
| --- | --- |
| | External Review on March 24, 2012 |
so fast...controlable...awesome blade which I have been using for about 5 years...you need to practise often otherwise it could be too fast...a bit hard to counterspin, perfect for attack blocks
---
| | |
| --- | --- |
| | External Review on February 15, 2012 |
Great Blade. Best ever had!

View all 18 Reviews