JOOLA K5
Price: $74.95
$84.95
Save $10.00 (12%)

The K-Line is one of the most successful series of competition blades in the TT scene.
Meanwhile the JOOLA K5 became the most sold JOOLA offensive blade. Numerous JOOLA players have absolute confidence on the hightech blade.
An extreme absorbing, elastic "honey"-comb is placed in the grip in such a way that the bat has to immediately restore its original form right after contact with the ball - this provides an enormous backstroke effect, which increases control and speed by far.
In comparison with that, conventional (passive) designs can only slightly reduce the arriving oscillations and are not able to build up an active resistance.
Moreover, the proved RAG-Technology (RoundAboutGrip) of the K-Line provides a senso-optimized transmission between hand and grip, the guarantee for a sensitive play even in most extreme situations!
Type: OFF
Speed: 78
Control: 95
Bending Resistance: 91
Weight: 85g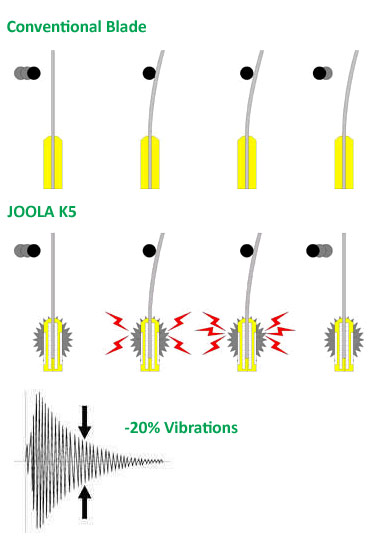 Ordering Information
JOOLA Blades Comparison Chart
Blade FAQ and Guide to Choosing a Blade - what you need to know when buying a blade.
Compare Blades - side-by-side blade rating comparison.
Blade weight Please note that the actual weight of a blade may vary by up to 8g.
Free shipping over $50 to continental US locations.
Best Price Guarantee We guarantee to have the lowest prices (shipping included) when compared to US table tennis stores. Please tell us if you find a lower USA price.
Reviews of JOOLA K5 (7)
Submit a short review about JOOLA K5.

View all 7 Reviews
| | |
| --- | --- |
| | External Review on October 3, 2012 |
i realy like it, i used version without rag*... very nice for beginers, and for players who whant controled loops.. suitable for chinese rubbers, but its better with tensor...
---
| | |
| --- | --- |
| | External Review on January 18, 2012 |
8 because is perfect blade for beginners.. u can easy loop almost everything..dont use soft rubbers with it..
nice combo with 1. juic driva smash ultima 2. friendship 729fx
---
| | |
| --- | --- |
| | Review by carlbryan on August 21, 2011 |
bought this blade as it was suggested to me by some guys at club joola. true enough the blade felt light and quick. it felt like it was lacking power though. during a game of doubles, i accidentally hit my partner's arm and the blade came apart. :( not very durable i must say
---
| | |
| --- | --- |
| | Review by aeolostar on December 29, 2009 |
this is an excelent blade, anyone saying this its a bad blade doesnt have a correct technique cause this blade its so well balanced and has such a nice feeling every time you hit the ball looping or serving or blocking its an excelent blade that can be used by anyone that can do the correct technique for hitting a table tennis ball , it doesnt matters if your style its european or chinesse , i think this blade its one of the best ive tried and can outstand many with carbon
---
| | |
| --- | --- |
| | External Review on November 23, 2009 |
did not like with joola air gona put some mark v on it and see let ya know

View all 7 Reviews