729 Dynasty Hinoki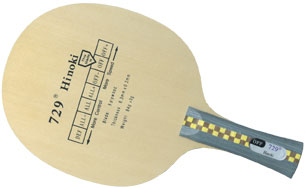 Price: $31.95

Dynasty Hinoki blade made for the modern demand of attacking style of play.
High quality 5 ply blade with a Balsa core and outer ply of high Grade Hinoki.
5-ply construction: Inner Core Balsa, outer ply's Hinoki.
Rated OFF.
Huge sweet spot.
For Attacking style of play and away from the table loop.
Big dwell time favors bigger strokes.
ITTF/USATT/CTTA Approved.
FLARED HANDLE.

Specifications:
Speed: 90
Control: 91
Weight: 84g
Thickness: 6.3mm +-0.2
Aprox. head size: W=152mm H=159mm
---
Customers who purchased 729 Dynasty Hinoki also purchased:
Ordering Information
Blade FAQ and Guide to Choosing a Blade - what you need to know when buying a blade.
Compare Blades - side-by-side blade rating comparison.
Blade weight Please note that the actual weight of a blade may vary by up to 8g.
Free shipping over $50 to continental US locations.
Best Price Guarantee We guarantee to have the lowest prices (shipping included) when compared to US table tennis stores. Please tell us if you find a lower USA price.
Reviews of 729 Dynasty Hinoki (4)
Submit a short review about 729 Dynasty Hinoki.
| | |
| --- | --- |
| | External Review on March 22, 2012 |
Get this blade if you wanna move on from a readymade paddles!
---
External Review on July 7, 2011
Good balance and touches, when having hinoki in outer laminae, good relation quality price, to block well to.cortar. also spin can be itched to do top and to contratacar, although it does not go exceeded, is necessary to put rubbers fast. I have used, globe 999 and national - SRIVER. friendship 729 ESP. and reactor to thunder, At the moment I use wood galaxy series N 9 Nº and T-11 series. better relation quality price .con rubbers friendship 729 ESP and reactor.
---
| | |
| --- | --- |
| | External Review on January 23, 2011 |
Very fair offensive blade. Paired with fast chinese rubbers make a good setup for the attacking-minded player, yet is controlled enough for blocks and pushes. Loops fine, serves good. Price is great, highly recommended, a thumbs-up product.
---
| | |
| --- | --- |
| | External Review on November 15, 2008 |
This is a much more flexy blade than my main blade, the Dynasty Hinoki Carbon. It's not as fast, and you can feel the vibrations much more in this Hinoki blade.