Friendship 729 Bomb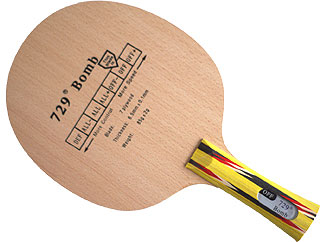 Price: $17.95

See Friendship 729 BOMB in penhold
Friendship 729 BOMB Wood Blade.
The BOMB is a blade formulated for modern and European style of Play.
In keeping with modern demands mid distance power with short game touch 729 BOMB uses a gradation of ply's the outer being hard to medium to balsa with a cork core.
The cork in this blade is added to provide that mid distance kick.
This offensive blade also plays good short game allowing for superior control of push, block, and flip.
7-ply construct
Cork core surrounded by balsa
Outer ply is of very thin and very hard wood
For Attacking style of play
Excellent control for a fast blade
Specifications:
Weight: 92g
Speed: 95
Control: 91
Thickness: 6.4mm
Aprox. Head size: W= 151mm H= 158mm
---
Customers who purchased Friendship 729 Bomb also purchased:
Ordering Information
Blade FAQ and Guide to Choosing a Blade - what you need to know when buying a blade.
Compare Blades - side-by-side blade rating comparison.
Blade weight Please note that the actual weight of a blade may vary by up to 8g.
Blade Sealing/Varnish
You may
add blade sealing
for this blade. Sealing prevents wood splintering.
Free shipping over $50 to continental US locations.
Best Price Guarantee We guarantee to have the lowest prices (shipping included) when compared to US table tennis stores. Please tell us if you find a lower USA price.
Reviews of Friendship 729 Bomb (30)
Submit a short review about Friendship 729 Bomb.

View all 30 Reviews
| | |
| --- | --- |
| | External Review on October 2, 2013 |
Better suited for pushing, blocking and hitting, than topspin. Not a fast blade, control is ok.
---
| | |
| --- | --- |
| | Review by miceduan on June 6, 2013 |
After a few month of tech. improvement, now I start to feel the power of this 7 layer paddle. It definitely needs a good technology from player for its power.
---
| | |
| --- | --- |
| | Review by miceduan on May 29, 2013 |
After a few month of technology improvement, now I start to feel the power of this 7 layer offensive blade. It shall work better with Butterfly T-80 (1.9mm) and Donic BlueFire M2 (1.8mm).
---
| | |
| --- | --- |
| | External Review on April 16, 2013 |
Not as fast as I expected it to be but the control is amazing. I used Chinese rubbers, Mark V and Donic Vario on this one. It does not produce the same pace when those same rubbers are used in my old DHS PF4 032 wood blade. The loops, however, are consistent and I can place them wherever I want. Lifting heavy chops is also easier on the Bomb. Still, you need to have a lot of stamina when playing against a good blocker. Compared to the Yinhe/Galaxy Children's Carbon blade, the Bomb is just a tad faster, IMHO. But it compensates this with more spin and greater control. Overall, a great purchase for its price.
---
| | |
| --- | --- |
| | Review by guest_19ocny1y on February 28, 2013 |
i got this with vega pro FH and Vega Euro BH great touch for push, looping are easy and fast with the vega pro combo.blocking is so so, and the cork layer will give this beast an extra level of speed. handle is pretty comfortable don't know why people complain about this

View all 30 Reviews