Adidas V 1.1
Price: $72.21


$84.95
Save $12.74 (15%)

The V1.1 is on the faster side of all around blades, providing the most benefits for spin-oriented players. Fitted for a shorter game, this blade receives high marks in precision and direct shots.
Precision is the premise - extraordinary skills specifically in the game above the table and in passive play characterize the V1.1. The feedback upon the ball's impact is hard and direct and facilitate self-analysis and correction. Being one of the faster allround blades, the V1.1 also provides qualities for spin oriented topspin openings.
Technology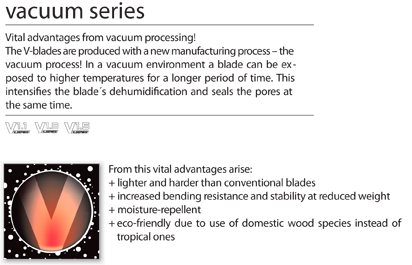 Veneer: 5 (Mahagori – Koto - Kiri – Koto - Mahagori)
Weight: 80g
Rating: ALL
Speed: 87
Control: 99
---
Customers who purchased Adidas V 1.1 also purchased:
Ordering Information
Blade FAQ and Guide to Choosing a Blade - what you need to know when buying a blade.
Compare Blades - side-by-side blade rating comparison.
Blade weight Please note that the actual weight of a blade may vary by up to 8g.
Free shipping over $50 to continental US locations.
Best Price Guarantee We guarantee to have the lowest prices (shipping included) when compared to US table tennis stores. Please tell us if you find a lower USA price.
Reviews
Submit a short review about Adidas V 1.1.