Adidas Fibertec Power
Price: $127.46


$149.95
Save $22.49 (15%)

adidas FiberTec Power blade
The adidas FiberTec Power is a high-tech blade for top players whose main weapon is all-round topspin from any position of the court. The core of the performance is "Aramid Carbon," a blend of soft aramid fibers and resilient carbon fibers. The combination of meticulously selected woods and this advanced fiber provides a sensational feeling for the ball. When powerful shots are received by the center of the blade, the ball is successfully absorbed, thus providing an excellent sense of control. Together with its high speed capability and feeling, this blade helps the player to dominate in a rally of topspin against topspin.
Technology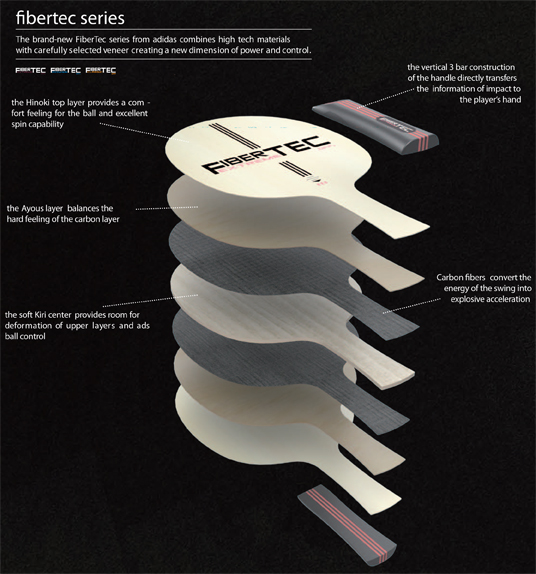 Veneers: 7 (Limba – Carbon Kevlar – Ayous – Kiri - Ayous – Carbon Kevlar – Limba)
Weight: 88 g
Rating: OFF+
Speed: 101
Control: 86
---
Customers who purchased Adidas Fibertec Power also purchased:
Ordering Information
Blade FAQ and Guide to Choosing a Blade - what you need to know when buying a blade.
Compare Blades - side-by-side blade rating comparison.
Blade weight Please note that the actual weight of a blade may vary by up to 8g.
Free shipping over $50 to continental US locations.
Best Price Guarantee We guarantee to have the lowest prices (shipping included) when compared to US table tennis stores. Please tell us if you find a lower USA price.
Reviews of Adidas Fibertec Power (4)
Submit a short review about Adidas Fibertec Power.
| | |
| --- | --- |
| | External Review on September 20, 2013 |
This Blade is great! Very strongly away from table, with very good control. Very good quality, I think better than the most other large companies.
---
| | |
| --- | --- |
| | External Review on May 5, 2013 |
Pretty fast, but not overly so. Has a very solid, maybe hard feel. You can feel that carbon near the outer ply. Great control. Very little dwell time. Might be the best blocking blade. Stands up to speedy shots without feeling like it's deforming
---
External Review on November 21, 2011
very good blade, fast but with quite good control

I would say at the same level than Butterfly Maze but cheaper .)
---
| | |
| --- | --- |
| | External Review on November 17, 2011 |
This is by far the best blade I have ever used. I was using the Butterfly Timo Bool Spirit before then I upgraded to the Timo Boll ZLC. At first I thought Adidas was going to be okay, and didn't think anything was going to be better than the ZLC. Once I started playing with the FiberTEC power, I felt like I had so much more control over the ball without losing any speed. If anything, I think I get more power off the FiberTEC Power. This is one blade everyone should try!