Adidas FiberTec Extreme
Price: $135.96


$159.95
Save $23.99 (15%)

adidas FiberTec Extreme Blade
The adidas FiberTec extreme has two faces – "outside soft" and "inside stiff". The stiff, but flexible carbon fibers convert the energy of swing into extreme acceleration and speed. The extreme nature of carbon is balanced by layers of Kiri and Ayous wood placed in between the carbon. The high quality Hinoki wood of the top layer provides a very comfortable touch and increases the ability of spin. Recommended for the players demanding high power and precise control at the same time.
Technology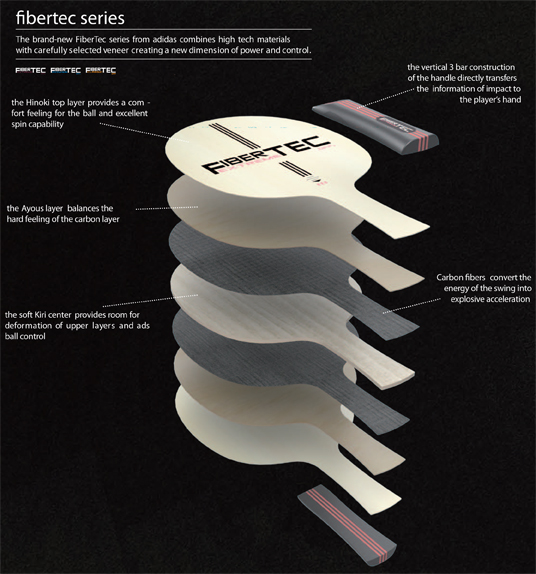 veneers:
7 (Hinoki – Ayous – Carbon – Kiri – Carbon – Ayous – Hinoki)
Weight: 88 g
Rating: OFF +
Speed: 100
Control: 85
---
Customers who purchased Adidas FiberTec Extreme also purchased:
Ordering Information
Blade FAQ and Guide to Choosing a Blade - what you need to know when buying a blade.
Compare Blades - side-by-side blade rating comparison.
Blade weight Please note that the actual weight of a blade may vary by up to 8g.
Free shipping over $50 to continental US locations.
Best Price Guarantee We guarantee to have the lowest prices (shipping included) when compared to US table tennis stores. Please tell us if you find a lower USA price.
Reviews of Adidas FiberTec Extreme (1)
Submit a short review about Adidas FiberTec Extreme.
| | |
| --- | --- |
| | External Review on November 17, 2011 |
The FiberTEC Extreme is a very good blade for a player who wants full control over the ball without any speed compromise. With the inner fiber design and the composition of hinoki, this blade has the most control/feel out of all carbon blades. If you play a very offensive game, then this blade is designed for you!