Adidas FiberTec Classic
Price: $139.95

The adidas FiberTec Classic is a lightweight blade for close-to-table topspin play. Its very thin construction provides sufficient flex and quick response handling for aggressive topspin players aiming to hit the ball on the rise. "Aramid Carbon" a blend of soft aramid fibers and resilient carbon fibers adds power and acceleration to each shot. The unique Akazie wood of the top layer provides additional sensitivity and a clearer sound. The superb spin capability and natural feeling helps players control the ball with high precision even under the pressure of severe rallies.
Technology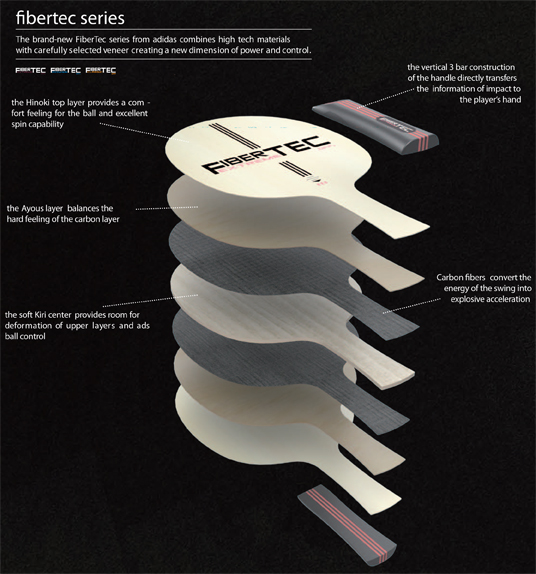 Veneers: 5 + 2
Orientation: OFF
Speed: 100
Control: 88
Weight: 83g
---
Customers who purchased Adidas FiberTec Classic also purchased:
Ordering Information
Professional racket assembly is offered on most orders free of charge. Please add a blade and 2 rubber sheets to the shopping cart to activate the racket assembly option on the shopping cart page. See Racket Assembly FAQ. You may also want to assemble your blades and rubber sheets yourself.
Instead of choosing rubber sheets and a blade, you may select a ready-made racket from our rackets section.
Blade FAQ and Guide to Choosing a Blade - what you need to know when buying a blade.
Compare Blades - side-by-side blade rating comparison.
Blade weight Please note that the actual weight of a blade may vary by up to 8g.
Free shipping over $50 to continental US This applies on all items except Newgy items.
Best Price Guarantee We guarantee to have the lowest prices (shipping included) when compared to US table tennis stores. Please tell us if you find a lower USA price.
Reviews of Adidas FiberTec Classic (3)
Submit a short review about Adidas FiberTec Classic.
| | |
| --- | --- |
| | External Review on May 15, 2013 |
Paired this with Xiom Vega Japan (FH) and Vega Asia (BH). Mine is 82gr. Speed I would say falls between an AR to OFF-. Control is excellent due to good feedback without unwanted vibrations. Blocks, chops, loops, flat smash are not a problem. highly recommended for AR type of plays.
---
| | |
| --- | --- |
| | External Review on November 21, 2011 |
After long time playing Viscaria and looking for a no Butterfly alternative i found a very good blade, the right balance between control, spin and speed
---
| | |
| --- | --- |
| | External Review on November 15, 2011 |
The FiberTEC Classic has the best feel without the vibration. This blade feels like a classic 5 ply wood blade but it is constructed by artificial fibers. The blade has great dwell time and is very easy to use, I can almost say it is hard to miss the table with this blade. The FiberTEC Classic compliments the chinese rubbers and The Adidas Tenzone series very well.