Andro Super Core Cell OFF+ - Chinese Style
Price: $49.99

This is the Chinese handle version
See also: Shakehand version

The Super Core CELL OFF+ is a very fast offensive blade, yet it is easy to play with. It requires the player's full commitment to completely activate the blade's speed resources. The CELL OFF+ provides very good elasticity and control with clearly more power in every ball. The strengthened fibers of the 7-layered veneer construction releases energy more efficiently. Also balls that are not hit in the center will be equipped with sufficient power due to the bigger sweet spot – recommended for a very offensive playing system.

Speed: 94
Control:93
Feel: Hard
Weight:85g

Super Core Cell Technology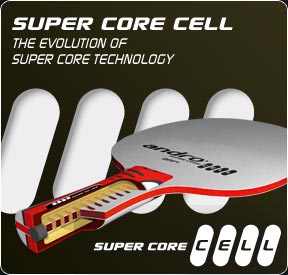 - High rebound effect due to thin outer veneers
- Cell structure in handle for maximum vibration reduction
- Innovative 360 edge protection prolongs durability
- Higher ball flying curve improves hitting area and control
- Strengthened blade fiber structure creates a better energy transport and excellent ball feedback
- Enlarged sweet spot area provides high mistake tolerance
- Decreased level of wrist fatigue due to lower weight

---
Customers who purchased Andro Super Core Cell OFF+ - Chinese Style also purchased:
Ordering Information
Blade FAQ and Guide to Choosing a Blade - what you need to know when buying a blade.
Compare Blades - side-by-side blade rating comparison.
Blade weight Please note that the actual weight of a blade may vary by up to 8g.
Free shipping over $50 to continental US locations.
Best Price Guarantee We guarantee to have the lowest prices (shipping included) when compared to US table tennis stores. Please tell us if you find a lower USA price.
Reviews
Submit a short review about Andro Super Core Cell OFF+ - Chinese Style.