45th World Championships - 1999 - ONE DVD Only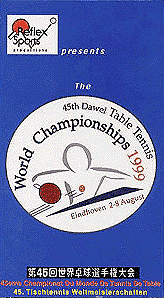 Price: $15.00


$35.00
Save $20.00 (57%)

from Eindhoven Netherlands
One DVD - 120 minutes
DVD's are multi region. They can be played on any DVD player.
If you wish to order the FULL SET click here.
Read more about the 45th World Championships:
45th World Table Tennis Championships Story through the of the Video Camera
Learn from the best...
Ma Lin and Liu Guoliang demonstrate a new style and improved technique to earn silver and gold medals!
All around level of play higher than ever! Waldner...so close to his fifth singles final! Schlager first austrian to reach semi finals since 1937

DVD A: MEN'S SINGLES ROUND OF 32 AND START OF FINAL 16
Netherland's HEISTER and #1 SAMSONOV show spinning at its best! France's ELOI upsets WANG Liqin ; and in the featured round-of-32 match , KIM Taek Soo fights off strong challenge from new German star Timo BOLL. In the Final 16, PRIMORAC and KARLSSON demonstrate the best of the European looping style; Austria's SCHLAGER shows top form against ELOI; KIM and J. SAIVE provide five games of toe-to-toe power table tennis.
DVD B: MORE FINAL 16
GATIEN does not survive LIU Guoliang's relentless kills but PERSSON overcomes Sen YAN's off-the bounce attack; another French standout, LEGOUT, gives WALDNER all he can handle in five exciting games
DVD C: BALANCE OF FINAL 16 AND 1/4 FINALS
MA Lin unleashes an incredible level of play to upset SAMSONOV; in the 1/4 Finals, PERSSON falls victim to LIU's buzzsaw attack; KIM cannot match MA Lin's at his best; SCHLAGER, revealing perhaps the strongest backhand in the world, surprises PRIMORAC with his inspired play.
DVD D: MORE 1/4 FINALS; HIGHLIGHTS OF MEN'S DOUBLES SEMI-FINALS AND FINAL AND WOMEN'S SINGLES FINAL; START OF MEN'S SEMI-FINALS:
WALDNER and KONG engage in a five game thriller that more than compares to the best matches of the past decade; in the Men's Doubles Semis, PRIMORAC AND SAMSONOV battle to the end against KONG and LIU while KIM and PARK Sang Joon fall against WANG and YAN. In the 18-in-the-fifth Final, KONG and LIU prevail over WANG and YAN. In the Women's singles Final, WANG Nan shows why she is World's #1 in her match against ZHANGYining. In the first of the Men's Semi Finals, the relentless firepower of LIU is more than SCHLAGER can handle in their four game match.
DVD E: BALANCE OF MEN'S SEMI-FINALS AND FINAL
Waldner looks unbeatable in winning the first two games against Ma, but Ma takes the sport of table tennis to a new level and fights back to give the audience a match to remember! In the Final, there is no question that both LIU and MA want the World Championship Gold! These amazing athletes show incredible speed, miraculous shotmaking and devastating power. This deuce-in-the-fifth-game match is one for the ages, generating a standing ovation from the awestruck audience.
---
Customers who purchased 45th World Championships - 1999 - ONE DVD Only also purchased:
Ordering Information
Free shipping over $50 to continental US This applies on all items except Newgy items.
Best Price Guarantee We guarantee to have the lowest prices (shipping included) when compared to US table tennis stores. Please tell us if you find a lower USA price.
Reviews
Submit a short review about 45th World Championships - 1999 - ONE DVD Only.