43th World Championships - 1995 - ONE DVD Only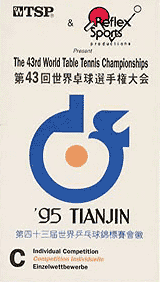 Price: $15.00


$35.00
Save $20.00 (57%)

from Tianjin, China
One DVD - 120 minutes
DVD's are multi region. They can be played on any DVD player.
If you wish to order the FULL SET click here.

DVD A: TEAM COMPETITION
From your courtside seat you'll see some of the most exciting table tennis in the 43rd WTTC. Although France, Germany, Belgium and Korea are stronger than ever, the defending champion Swedes and the powerful Chinese again meet in the Final. Watch sparks fly in this renewal of their intense rivalry!
DVD B: CONTINUATION OF TEAM FINAL & INDIVIDUAL COMPETITION
The Team Final goes down to the wire in two hard-fought matches. Despite Waldner's heroics, the Chinese team prevails. In Individual Men's competition...Waldner falls to Liu Guoliang,
J.M. Saive and Persson can't overcome Ding Song's heavy chopping and devastating hitting.
DVD C: INDIVIDUAL COMPETITION
In the 1/4's, Liu Guoliang smashes past Samsonov. Kong Linghui's uses his all-around game to defeat Karlsson. Kim Taek Soo is spectacular against Wang Tao, but is disqualified for using illegal glue. In the Semis, Wang Tao bows out to Liu Guoliang, while Kong Linghui shows that Ding Song is beatable. In the Final, Kong Linghui faces Liu Guoliang in a slugfest between two of the hardest hitters in the game.
Ordering Information
Free shipping over $50 to continental US This applies on all items except Newgy items.
Best Price Guarantee We guarantee to have the lowest prices (shipping included) when compared to US table tennis stores. Please tell us if you find a lower USA price.
Reviews
Submit a short review about 43th World Championships - 1995 - ONE DVD Only.