41st World Championships - 1991 - ONE DVD Only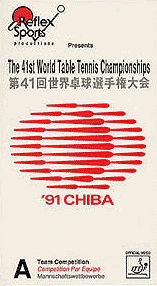 Price: $15.00


$30.00
Save $15.00 (50%)

from Chiba, Japan
One DVD - 120 minutes
DVD's are multi region. They can be played on any DVD player.
If you wish to order the FULL SET click here.
DVD A: TEAM COMPETITION
Witness the excitement as Czechoslovakia, Belgium and Yugoslavia upset their way to the Semis, where they join defending champion Sweden. See history made as North and South Korea combine to produce formidable men's and women's teams.
DVD B: INDIVIDUAL COMPETITION, INCLUDING SOME QUARTER-FINALS
In Persson's run to the Final, he outlasts J-M. Saive and Grubba in fierce matches. The Women's Singles Final is a smashing confrontation between Li Bun Hui and Deng Yaping.
DVD C: INDIVIDUAL COMPETITION, BALANCE OF QUARTER-FINALS THROUGH FINALS
Features Ma Wenge's swing-from-the-heels power against Yoo Nam Kyu and Persson's textbook display of shakehands play against Kim Taek Soo's penhold style. Waldner shows his marvelous touch against Gatien and Ma Wenge. The Men's Final is a rematch between Waldner and Persson...the artist against the athlete!
Ordering Information
Free shipping over $50 to continental US This applies on all items except Newgy items.
Best Price Guarantee We guarantee to have the lowest prices (shipping included) when compared to US table tennis stores. Please tell us if you find a lower USA price.
Reviews
Submit a short review about 41st World Championships - 1991 - ONE DVD Only.