Forehand Smash Mastery DVD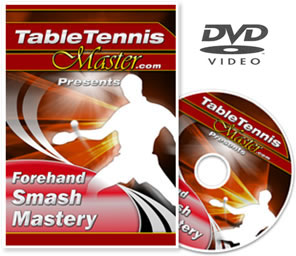 Price: $29.95


$49.95
Save $20.00 (40%)

Multi-region- can be played on any DVD player.
Approx. 60 minutes
Get a bundle discount - Order with Forehand Loop Mastery
How would you like to execute the forehand smash with deadly speed and precision control?
Imagine… being able to destroy your competition with ruthless smashes!
Forget spin, finesse and defense -- the forehand smash is raw, ruthless, offensive power. This incredible DVD shows you step-by-step how to deliver killer smashes that will have any player begging you for mercy. By following the techniques you will...
Unleash killer forehand smashes... just like the pros.


Master your timing, form, control and execution of the forehand smash.


Master the counter-smash and manhandle your opponents! (Even
the real aggressive ones)


Develop a "killer instinct" and increase your confidence to initiate the attack.


Crush the competition with lethal third and fifth ball attacks.
It doesn't matter what style of player you are. The forehand smash is the most deadly stroke in the game and should be a part of every player's arsenal. With this killer DVD as your guide you will master the forehand smash in no time!
Have a Chinese Master as your coach
It's no secret that the Chinese dominate the sport of table tennis. They train long and they train hard - and are known as the most disciplined players in the world.
So if you want to get good fast... doesn't it make sense to learn from a Chinese coach who's "been there"? Who's trained and competed with the BEST?!
Born and raised in China, Coach Tao Li has been a student of table tennis all his life...
He was a first class professional player for the Hebei Provincial Team in China for many years and was also Head Coach of the Beijing Jiaotong University Table Tennis Program.
Presently, he's a well-respected NCCP Certified Level 3 Table Tennis Coach in Canada.
Because Coach Li is such an experienced player and teacher... what you are about to see can be QUICKLY "absorbed" into your muscle memory. You get "full on" training that will have you unleashing killer smashes and dominating your opponents in no time.

90-day Satisfaction Guarantee If you decide this DVD is not for you, you may promptly return in 90 days for a refund, no questions asked.
Testimonials
"Thanks for such an informative DVD... before watching it my smash was outta control and the tips I picked up helped me greatly with my ball placement. I'm a sniper out there!"
- Jason Francis
Toronto, ON
"I just received the DVDs this week and must say they are first-rate - nowhere else have I seen each stroke broken down into such detail. I can't wait to apply what I've learned at my club."
- Chuck Ward
East Sussex, UK

"I can't even begin to tell you how happy I am right now... I just finished smacking around this guy at my club who until now has always left me in complete disarray. I crushed him 11-3! Your DVDs have given me an unfair advantage."
- Simon Cheng
Melbourne, Australia

"The confidence I got from your DVDs is incredible. I'm used to watching other players with envy, now they're envying me!"
- Marcus Hansen
Tucson, AZ
---
Customers who purchased Forehand Smash Mastery DVD also purchased:
Ordering Information
Free shipping over $50 to continental US locations.
Best Price Guarantee We guarantee to have the lowest prices (shipping included) when compared to US table tennis stores. Please tell us if you find a lower USA price.
Reviews of Forehand Smash Mastery DVD (2)
Submit a short review about Forehand Smash Mastery DVD.
| | |
| --- | --- |
| | External Review on October 27, 2008 |
This is a great DVD, just like its brother the Forehand Loop DVD. It has the same format, showing various ways to smash, then showing a series of drills you can do. Basically if you follow the drills diligently, you will have to improve drastically. The problem is finding a good drill partner who can feed you the right balls.

Great DVD, and made in Canada!
---
External Review on September 3, 2008
This video is a very similar format to the Forhand Loop DVD but it focuses on smashing the ball and hitting it more than brushing the ball. The DVD helped me put more speed instead of slow spiny shots and also is for every lvl of player. I cant really rate this for difficulty because it goes from 500-2400 rating easily. Ive been coached once by Tao and hes very good. As good as Forhand loop DVD.