Service Mastery DVD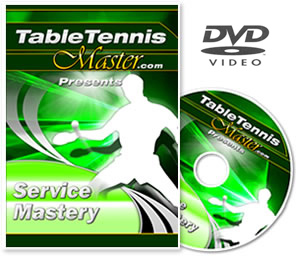 Price: $17.00


$49.95
Save $32.95 (66%)

- Master all variations of the forehand, backhand, and pendulum serves.
-Master depth control, spin application, and service strategy.
- Get the edge you need to dominate your competition.
- Master the exotic forehand and backhand tomahawk serves.
Mastering your serve is the FASTEST way to take your game to the next level. Building up an arsenal of deadly serves will win you more points, give you more confidence, and allow you to intimidate and destroy opponents that are presently better than you. With the Service Mastery DVD as your guide you will be unleashing killer serves in no time!
Have a Chinese Master as your coach
It's no secret that the Chinese dominate the sport of table tennis. They train long and they train hard - and are known as the most disciplined players in the world.
So if you want to get good fast... doesn't it make sense to learn from a Chinese coach who's "been there"? Who's trained and competed with the BEST?!
Born and raised in China, Coach Tao Li has been a student of table tennis all his life...
He was a first class professional player for the Hebei Provincial Team in China for many years and was also Head Coach of the Beijing Jiaotong University Table Tennis Program.
Presently, he's a well-respected NCCP Certified Level 3 Table Tennis Coach in Canada.
Because Coach Li is such an experienced player and teacher... what you are about to see can be QUICKLY "absorbed" into your muscle memory. You get highly detailed, "full on" instruction which will have you unleashing killer serves with ease. The material is easy to understand and brutally effective.

90-day Satisfaction Guarantee If you decide this DVD is not for you, you may promptly return in 90 days for a refund, no questions asked.
Testimonials
"The confidence I got from your DVDs is incredible. I'm used to watching other players with envy, now they're envying me!"
- Marcus Hansen
Tucson, AZ
"I just received the DVDs this week and must say they are first-rate - nowhere else have I seen each stroke broken down into such detail. I can't wait to apply what I've learned at my club."
- Chuck Ward
East Sussex, UK
---
Customers who purchased Service Mastery DVD also purchased:
Ordering Information
Free shipping over $50 to continental US locations.
Best Price Guarantee We guarantee to have the lowest prices (shipping included) when compared to US table tennis stores. Please tell us if you find a lower USA price.
Reviews of Service Mastery DVD (3)
Submit a short review about Service Mastery DVD.
| | |
| --- | --- |
| | External Review on November 27, 2010 |
Overall, this was a very good DVD. Great for the collection of any competitive table tennis player, not because it is exceedingly helpful in service development, but because it 1) presents a fairly wholesome overview of what kind of serves are out there, 2) reminds us of what consists good service form, and 3) is useful in studying service and service return in general. If it was simply a tutorial, I would give it a lower rating, but I would recommend that everyone have a copy on hand for helpul reminders.
---
| | |
| --- | --- |
| | External Review on December 14, 2009 |
A dissapointment.

First of all, let me state I am not a good tt player. I play in a club with many 500-600 players who beat me everytime. However, I do watch a lot of sports instructionnals, and I must say this one is not up to par with the likes of "The Book" for wakeboarding, or websites such as fuzzyyellowballs.com for tennis. I had high hopes for this DVD since the others in their series seemed to have great reviews.

The first problem with this DVD is that it is EXTREMELY repetitive. I would say that 90% of what the narrator says is identical for every variation of the forehand pendulum, for example. And I mean word for word. If you watch this DVD from start to finish, you will be able to tell most of what the narrator is going to say next, even tough you've never watched this. While this may seem natural considering that the motions for these serves are very much alike, this highlight the lack of detailed information for each serve variation. I expected a lot of emphasis to be put on the subtleties concerning the point of contact for each serves with slo-motion from many angles.

However, while there is definetly SOME useful information there, it's not that detailed nor well-illustrated. There are slo-mo sequences, but they are of poor quality and very blurry. Don't expect "high-speed camera"-like picture. For a movement a subtle as a tt serve, I would say bad slo-mo is a pretty big drawback.

Since the slo-mos aren't that good, I would have liked the coach to at least "shadow" the techniques so that we can get a better understanding of the movement, but there are no such demonstrations.

I expected to have a kind of "troubleshooting section" for each type of serve, mentionning the most common mistakes and how to correct them. There is none.

I would also have liked more examples and details on the many types of "fakes" one can incorporate into his serve to make it harder to read. They mention that adding fakes is important, but they show only one example in the whole DVD.

There are also some problems with the coach performing the drills. When I first saw the short serve, it seemed to bounce high to me, but I thought "hey I don't know jack, that's why I bought this DVD". To my surprise, the narrator then said something like "The coach's short serves are a little high, you should strive to make your serves lower." Later in the DVD, they demonstrate the tomahawk serve and the narrator mentions that the example given by the coach is in fact an illegal serve. Not great for an INSTUCTIONNAL DVD. Also, the coach can't perform the reverse pendulum, so they use tournament footage instead. They would have been better using a club player to show us the motion.

Finally, there is some game footage from time to time, and much of it looks like it's been taken from old VHS tapes. This would normally not bother me, but since I've been dissapointed with the instruction given, this is just more salt in the wound.

Overall useful, but I can't say I recommend it. I am seriously thinking about checking if their "90 days satisfaction warranty" thing is for real.

Update: I did send back the DVD to Table Tennis Masters and was given a full refund, no questions asked. I have to give them points for great customer service. If you're still on the fence, not sure if you should buy this or not, know that you can try it out withtout risk. The shipping cost was about the same as a rental at the local videoclub. Just don't abuse their goodwill (don't copy the DVD if you use it or make it available on the net, if you like it, pay for it).
---
| | |
| --- | --- |
| | External Review on October 20, 2009 |
This is a pretty thorough DVD covering all of the major aspects of a solid serve. It's nice that it includes the Tomahawk serve that I'm sure is getting more popular as Kenta Matsudaira rises in the rankings.

There's a lot of information to digest so you'll have to watch it over and over again. As a player over 2100 in rating, I learned a few things as well that I didn't know before. Anyone under 2000 can benefit from this DVD. Good work!