Forehand Loop Mastery DVD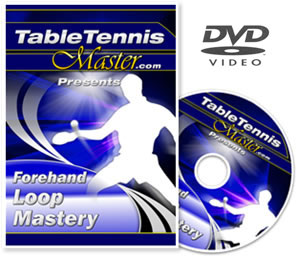 Price: $17.00


$49.95
Save $32.95 (66%)

Multi-region- can be played on any DVD player.
Approx. 75 minutes
Get a bundle discount - Order with Forehand Smash Mastery
How would you like to master the forehand loop? FAST!
Imagine… being able to execute deadly loops, just like the pros!
The forehand loop is the most dynamic and powerful shot in table tennis, and this DVD reveals everything you need to know to master it with ease. By following the techniques you will...
Discover how to perform slow loops, loop drives, and loop kills like a pro.
Control the pace of the game at will, and throw your opponent off with ease.
Master the counter-loop and never again collapse under the pressure of an aggressive attacker.
"Beef up" your arsenal and destroy the competition with lethal third, fourth and fifth ball loop attacks... your opponents will be devastated by your relentless offense.
Develop a "killer instinct" and increase your confidence to initiate the attack.
Annihilate your opponents with vicious sidespin hook and fade loops.With this killer DVD as your guide you'll master the forehand loop faster than you ever thought possible. It's practical, simple, and the most cutting-edge loop training available today.
Have a Chinese Master as your coach
It's no secret that the Chinese dominate the sport of table tennis. They train long and they train hard - and are known as the most disciplined players in the world.
So if you want to get good fast... doesn't it make sense to learn from a Chinese coach who's "been there"? Who's trained and competed with the BEST?!
Born and raised in China, Coach Tao Li has been a student of table tennis all his life...
He was a first class professional player for the Hebei Provincial Team in China for many years and was also Head Coach of the Beijing Jiaotong University Table Tennis Program.
Presently, he's a well-respected NCCP Certified Level 3 Table Tennis Coach in Canada.
Because Coach Li is such an experienced player and teacher... what you are about to see can be QUICKLY "absorbed" into your muscle memory. You get "full on" training that will have you unleashing killer loops as fast as possible. The material is easy, simple and brutally effective.
90-day Satisfaction Guarantee If you decide this DVD is not for you, you may promptly return in 90 days for a refund, no questions asked.
Testimonials
"I have trained with the Forehand Loop Mastery DVD for two weeks and have seen visible improvement. My USATT rating was 1100 previously. But, recently I have been able to hold my own (and sometimes beat) 1500-1600 players. Occasionally I even put so much top spin that my opponent completely misses the ball! It is a great feeling and I have already seen results early on."
-David Johnson
Norman, OK

"The DVDs are great! The biggest thing I realized was my form was totally off when trying to perform loops... anyway just yesterday I unleashed a sidespin loop on my buddy, you should've seen the look on his face! Thanks again!"
- Richard Wilson
Cincinnati, OH
"I thought I was hopeless and was shocked at how quickly I was applying serious topspin to my shots... and keeping them on the table! The biggest thing is I now know how to practice with purpose while most of my friends are wasting time goofing around. This stuff is so good."
- Ed Wong
Oakland, CA
"The confidence I got from your DVDs is incredible. I'm used to watching other players with envy, now they're envying me!"
- Marcus Hansen
Tucson, AZ
"I just received the DVDs this week and must say they are first-rate - nowhere else have I seen each stroke broken down into such detail. I can't wait to apply what I've learned at my club."
- Chuck Ward
East Sussex, UK

---
Customers who purchased Forehand Loop Mastery DVD also purchased:
Ordering Information
Free shipping over $50 to continental US locations.
Best Price Guarantee We guarantee to have the lowest prices (shipping included) when compared to US table tennis stores. Please tell us if you find a lower USA price.
Reviews of Forehand Loop Mastery DVD (6)
Submit a short review about Forehand Loop Mastery DVD.

View all 6 Reviews
| | |
| --- | --- |
| | External Review on November 27, 2010 |
Now, this DVD teaches at an elementary-intermediate level, but it would be a good addition to collections of players even above 2000. It is neither difficult to master or understand. Its best points are that it includes many drills to develop and maintain good looping and looping form. This will serve as a great training for beginner-intermediate level players and a useful reminder for already proven players, >1800, I'm being generous :)
---
External Review on October 11, 2009
This DVD was well put together. It's basic style is to demonstrate the basics of the stroke and then provide the viewer with many many different drills.
---
| | |
| --- | --- |
| | External Review on July 9, 2009 |
I definitely learned a lot from this DVD. It is very thorough in teaching the stroke. It has lots of good drills to try to get better.
---
| | |
| --- | --- |
| | External Review on October 27, 2008 |
This is a great training DVD, much better than others, because it focuses on Looping only for the whole DVD, so it really get in-depth on this stroke. It has lots of slow-motion clips, and then gives many different drills that you can do to continue training your loop.

Also, it starts out with some basics, so it's also good for beginners, but continues into the intricacies so it can help higher level players in the 1800-2000 rating level as well.

Great product!
---
| | |
| --- | --- |
| | External Review on October 25, 2008 |
For an absolute beginner this is a very nice tool to learn a proper forehand. If you are rated above 1700 usatt, this is NOT for you.
A 1500 player should know these strokes already, and a 1700 usatt player would not be rated 1700 if they did not know these strokes.
The production quality is not very good. Other than having a Chinese coach, everything else is poorly done. The lighting is bad, and the video was shot using a consumer camera.(also the slow motion is pixely)
I wouldn't mind this, if the price of the video was $5 or $10 bucks. But it's $30 dollars!
All in all, if you're a beginner this may be good for you. If you're an intermediate player, think twice about getting this.

View all 6 Reviews