Backhand Loop Mastery DVD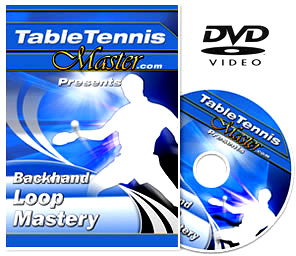 Price: $17.00


$49.95
Save $32.95 (66%)

Multi-region- can be played on any DVD player.
Approx. 62 minutes
Get a bundle discount - Order with Service Mastery
Are you ready to unleash devastating backhand loops and destroy your competition?
The backhand loop is the most dynamic and powerful backhand shot in table tennis, and this amazing DVD gives you step-by-step training so you can master it FAST. By following the techniques you will...
- Master the backhand slow loop, loop drive, and fast loop.
- Develop the confidence to initiate offense and go for the kill.
- Discover third, fourth, and fifth ball attacking strategies.
- Master the backhand counter-loop and sidespin hook and fade loops.
Having a strong forehand attack is simply not enough. Developing a lethal backhand loop will make you much more dangerous player and a greater offensive threat to your opponents. With the Backhand Loop Mastery DVD as your guide you'll have the secrets to master the backhand loop in no time!
Have a Chinese Master as your coach
It's no secret that the Chinese dominate the sport of table tennis. They train long and they train hard - and are known as the most disciplined players in the world.
So if you want to get good fast... doesn't it make sense to learn from a Chinese coach who's "been there"? Who's trained and competed with the BEST?!
Born and raised in China, Coach Tao Li has been a student of table tennis all his life...
He was a first class professional player for the Hebei Provincial Team in China for many years and was also Head Coach of the Beijing Jiaotong University Table Tennis Program.
Presently, he's a well-respected NCCP Certified Level 3 Table Tennis Coach in Canada.
Because Coach Li is such an experienced player and teacher... what you are about to see can be QUICKLY "absorbed" into your muscle memory. You get "full on" training that will have you unleashing killer backhand loops as fast as possible. The material is easy, simple and brutally effective.

90-day Satisfaction Guarantee If you decide this DVD is not for you, you may promptly return in 90 days for a refund, no questions asked.
Testimonials
"The DVDs are great! The biggest thing I realized was my form was totally off when trying to perform loops... anyway just yesterday I unleashed a sidespin loop on my buddy, you should've seen the look on his face! Thanks again!"
- Richard Wilson
Cincinnati, OH

"I thought I was hopeless and was shocked at how quickly I was applying serious topspin to my shots... and keeping them on the table! The biggest thing is I now know how to practice with purpose while most of my friends are wasting time goofing around. This stuff is so good."
- Ed Wong
Oakland, CA
"The confidence I got from your DVDs is incredible. I'm used to watching other players with envy, now they're envying me!"
- Marcus Hansen
Tucson, AZ

"I just received the DVDs this week and must say they are first-rate - nowhere else have I seen each stroke broken down into such detail. I can't wait to apply what I've learned at my club."
- Chuck Ward
East Sussex, UK
---
Customers who purchased Backhand Loop Mastery DVD also purchased:
Ordering Information
Free shipping over $50 to continental US locations.
Best Price Guarantee We guarantee to have the lowest prices (shipping included) when compared to US table tennis stores. Please tell us if you find a lower USA price.
Reviews of Backhand Loop Mastery DVD (2)
Submit a short review about Backhand Loop Mastery DVD.
| | |
| --- | --- |
| | External Review on December 18, 2010 |
Two words: Instant Backhand!!!
Lol ok not really, but this is a superb instructional tool easy to follow from about 1600 and incredibly useful for up to 2200 probably. If the instruction is taken seriously and you have a solid backhand foundation in block and counterdrive, you will see progress for you loop almost immediately. No joke. Even in the first night, this cleared up several points for me (~1700).
---
| | |
| --- | --- |
| | External Review on October 23, 2009 |
It's a solid learning tool for players under 1900 or so. If you actually watch the DVD over and over again as instructed, and work on the drills given, you should have a solid backhand loop in a few months.