Stiga Boost TC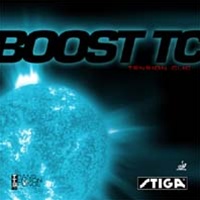 Price: $54.95
$58.95
Save $4.00 (7%)

Stiga has achieved the ultimate answer for the non-glue era! Boost rubbers with the new TTS Technology with "TransTension Sponge" and new materials generate maximum tension and sponge power. Boost rubbers are fast, bouncy, and with a tremendous catapult effect.
Boost TC (Tension Clic) has a soft sponge, creating a truly sensational touch and feel for the player. It gives a crisp clear sound on striking the ball.
Speed: 94
Spin:95
Control:68
Sponge Hardness: Soft

---
Customers who purchased Stiga Boost TC also purchased:
Ordering Information
Rubber FAQ and Guide to Choosing Rubber - what you need to know when buying rubber.
Compare rubber ratings - compare ratings to other sheets.
Free shipping over $50 to continental US locations.
Best Price Guarantee We guarantee to have the lowest prices (shipping included) when compared to US table tennis stores. Please tell us if you find a lower USA price.
Reviews of Stiga Boost TC (20)
Submit a short review about Stiga Boost TC.

View all 20 Reviews
External Review on July 24, 2013
A good standard rubber for intermediate/advanced players. Spinny, fast and soft rubber. Can be used for almost every playing style.
---
| | |
| --- | --- |
| | External Review on March 25, 2013 |
One of the best FH rubber for any level players!
---
| | |
| --- | --- |
| | External Review on December 7, 2012 |
This rubber offers high speed/spin for intermediate to advanced players. Great for service, loops and fast counters. Works best on all wood blades in the ALL+, Off-, Off classes. Good durability and high quality. Better ball feel than Tenergy's. One of the very best top rubbers worldwide.
---
| | |
| --- | --- |
| | External Review on February 4, 2012 |
I use it on forehand on a Butterfly Timo Boll ALC blade with Neos Tacky on the backhand. Nice and quick but plenty of control to suit a blocking game as well as an attacking style when required.
---
External Review on August 28, 2011
can i put it on viscaria?

View all 20 Reviews