Stiga Boost TC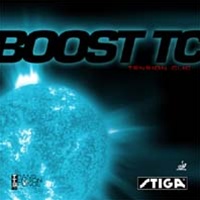 Price: $44.95


$58.95
Save $14.00 (24%)

Stiga has achieved the ultimate answer for the non-glue era! Boost rubbers with the new TTS Technology with "TransTension Sponge" and new materials generate maximum tension and sponge power. Boost rubbers are fast, bouncy, and with a tremendous catapult effect.
Boost TC (Tension Clic) has a soft sponge, creating a truly sensational touch and feel for the player. It gives a crisp clear sound on striking the ball.
Speed: 94
Spin:95
Control:68
Sponge Hardness: Soft

---
Customers who purchased Stiga Boost TC also purchased:
Ordering Information
Professional racket assembly is offered on most orders free of charge. Please add a blade and 2 rubber sheets to the shopping cart to activate the racket assembly option on the shopping cart page. See Racket Assembly FAQ. You may also want to assemble your blades and rubber sheets yourself.
Instead of choosing rubber sheets and a blade, you may select a ready-made racket from our rackets section.
Rubber FAQ and Guide to Choosing Rubber - what you need to know when buying rubber.
Compare rubber ratings - compare ratings to other sheets.
Free shipping over $50 to continental US This applies on all items except Newgy items.
Best Price Guarantee We guarantee to have the lowest prices (shipping included) when compared to US table tennis stores. Please tell us if you find a lower USA price.
Reviews of Stiga Boost TC (19)
Submit a short review about Stiga Boost TC.

View all 19 Reviews
| | |
| --- | --- |
| | External Review on March 25, 2013 |
One of the best FH rubber for any level players!
---
| | |
| --- | --- |
| | External Review on December 7, 2012 |
This rubber offers high speed/spin for intermediate to advanced players. Great for service, loops and fast counters. Works best on all wood blades in the ALL+, Off-, Off classes. Good durability and high quality. Better ball feel than Tenergy's. One of the very best top rubbers worldwide.
---
| | |
| --- | --- |
| | External Review on February 4, 2012 |
I use it on forehand on a Butterfly Timo Boll ALC blade with Neos Tacky on the backhand. Nice and quick but plenty of control to suit a blocking game as well as an attacking style when required.
---
External Review on August 28, 2011
can i put it on viscaria?
---
| | |
| --- | --- |
| | External Review on March 1, 2011 |
Good Rubber and lovely

you can play with it for all .. back and forehand


almost cheap

I love it.

View all 19 Reviews