1996 Olympic Games - Atlanta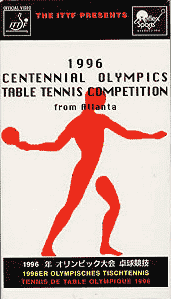 Price: $54.00


$86.00
Save $32.00 (37%)

DVD's are multi-region
from Atlanta, USA
Three DVDs of 120 Minutes each

Once again the ITTF, with the cooperation of the International Olympic Committee, commissioned Reflex Sports to produce an official educational and training video. Associations and coaches will find the six-hour production to be an even more effective motivational and training tool than the Barcelona DVDs as the extra time allows more complete matches to be shown.
GREAT MATCHES AND UPSETS!
Rosskopf vs Kim Taek Soo may be the most exciting match we've ever seen
Canada's Huang stops Waldner's chance for a Gold Medal repeat!
Kim Taek Soo is awesome against #1 seed Kong Linghui!
Korbel outplays J-M Saive at his own power game!
Wang Tao overcomes the onslaught of rising superstar Samsonov!

Read Further :
Story of the 1996 Olympics Through the Eye of the Video Camera
Ordering Information
Free shipping over $50 to continental US This applies on all items except Newgy items.
Best Price Guarantee We guarantee to have the lowest prices (shipping included) when compared to US table tennis stores. Please tell us if you find a lower USA price.
Reviews
Submit a short review about 1996 Olympic Games - Atlanta.