Killerspin Table Cover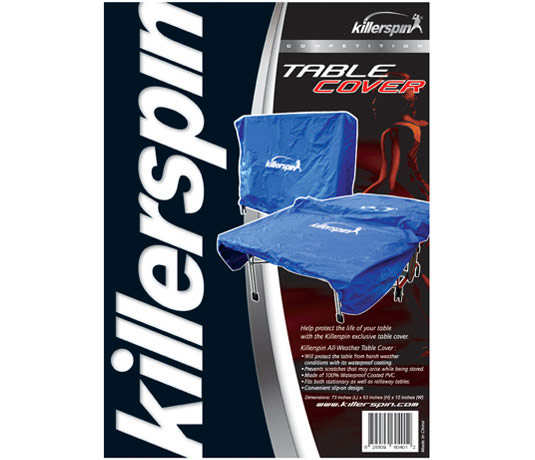 Price: $89.00

Help protect the life of your table with the Killerspin exclusive table cover


Specifications
Made of Anti-UV Coated Polyester
Fits both stationary as well as rollaway tables
Convenient slip-on design
Prevent scratches that may arise while being stored
Dimensions: 73"(L) x 63"(H) x 12"(W)
Please Note that covers are not intended to protect an indoor table from outdoor weather. If your table will be exposed to direct or indirect moisture or prolonged high humidity, you will need to purchase an outdoor table.
---
Customers who purchased Killerspin Table Cover also purchased:
Ordering Information
Free shipping over $50 to continental US locations.
Best Price Guarantee We guarantee to have the lowest prices (shipping included) when compared to US table tennis stores. Please tell us if you find a lower USA price.
Reviews of Killerspin Table Cover (1)
Submit a short review about Killerspin Table Cover.
| | |
| --- | --- |
| | Review by mdobyns40 on April 13, 2011 |
I was looking for a cover to provide some protection and to serve as a dust cover. The Kilerspin cover looked like it would be perfect. I found it to be vey well made and certainly a good value. Unfortunately it is made of very thick material that would probably protect the table from a hail storm. Because of this the cover strongly retains the fold lines and wrinkles and will not lie flat and is unsightly. And because it is so thick and wrinkled it is very hard to put on the table by one person. If you are looking for a cover that will protect your table from abuse this is the cover for yo. If you are looking for something to provide protection from minor insults and dust that is easy to put on and take off you do not want this cover.