JOOLA Gold 3-Star - pack of 120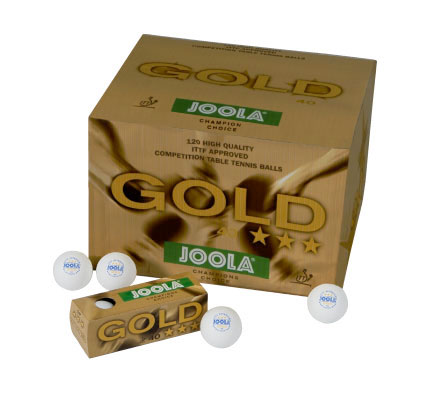 Price: $159.95


$229.95
Save $70.00 (30%)

Sorry, this item is currently out of stock. You may ask us to send you a restocking notification when this item is back.
Premium quality balls.
Made from best celluloid and checked at every stage of production, therefore there is hardly any variation in diameter, weight and roundness from one ball to another. However, the decisive factor for the use of a ball in top performance table tennis is its consistent hardness, as this is the only way to guarantee an even ball bounce and the best practise. Therefore every ball is tested again using this criterion and only the best are selected. JOOLA GOLD, the ball of the best!
JOOLA GOLD is the ball chosen by the EUROPE TOP 12 tournament in Frankfurt 2008 and the German Cup winners 2007, the TTC Zugbrücke Grenzau. It is also the official ball of the 2008 JOOLA North American Tour.
---
Customers who purchased JOOLA Gold 3-Star - pack of 120 also purchased:
Ordering Information
Table Tennis Balls Guide - what you need to know when buying balls.
Free shipping over $50 to continental US locations.
Best Price Guarantee We guarantee to have the lowest prices (shipping included) when compared to US table tennis stores. Please tell us if you find a lower USA price.
Reviews of JOOLA Gold 3-Star - pack of 120 (7)
Submit a short review about JOOLA Gold 3-Star - pack of 120.

View all 7 Reviews
| | |
| --- | --- |
| | External Review on October 8, 2013 |
I don't like this ball. It fells like feather and I don't have a sense of it when hitting. Also it has no power - bounces low and short. This is maybe good for pushers and chopper, but I play topspin loops :-(
Usually I use Yasaka Superior balls. It is the ball you feel when you hit and you know how you hit it (feedback). With Joola Gold I don't know what is happening most of the time. Maybe I just need time to adapt.
---
External Review on April 28, 2012
in its life, the ball is average at best, they are hard but they only seem to last a few matches, i played a league match and amazingly i broke 4 balls in 7 points, then got a butterfly ball out, completed the rest of the night without a problem, dont bother with joola gold!
---
External Review on June 8, 2011
I have never played with a ball which broke so often. Hard to judge because it breaks!

I prefer DHS, Butterfly, Stiga, Schildkrot and Nittaku over these. DHS is best "bang for the buck", but love the weight and feel of Nittaku Premium (just wish they were cheaper).
---
External Review on May 30, 2011
| | |
| --- | --- |
| | External Review on April 11, 2011 |
one of the best balls. i have used six balls so far and haven't played with any "eggs." just last night, i was playing with a chinese ball and our play seemed only to last up to three or four exchanges. we changed balls and our play became more consistent. expensive though.
by the way, i am not saying that lower-priced chinese balls are of lower quality. it's that quality control is not as strict as there are some "eggs" -- but for the price of chinese balls which is about 50%, i guess it's ok.

View all 7 Reviews