JOOLA Champ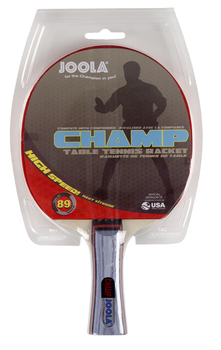 Price: $33.00


$39.95
Save $6.95 (17%)

TT bat with pimples in rubbers with sponge for players with recognizable playing system, certain techniques
A = Allround
Technology: ERGO grip, selected Plywood, feeling system
Pimples: in
Rubber: Compass
Veneers: 5
Grip: flared
Weight: 159 gr.
Speed 75
Spin 80
Control 88
---
Customers who purchased JOOLA Champ also purchased:
Ordering Information
Racket Assembly FAQ - Learn about free racket assembly, pre-assembled rackets and more.
Free shipping over $50 to continental US locations.
Best Price Guarantee We guarantee to have the lowest prices (shipping included) when compared to US table tennis stores. Please tell us if you find a lower USA price.
Reviews
Submit a short review about JOOLA Champ.