2002 European Championships - ONE DVD Only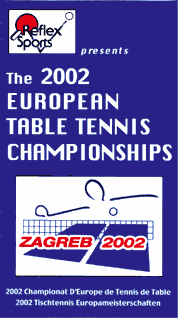 Price: $20.00


$35.00
Save $15.00 (43%)

from Zagreb, Croatia
One DVD only.
Click here to order the set of all four DVDs!
The Euro 2002 videos are a textbook on the ideal style and strategy to use to win in playing the new 11 point game. Timo Boll's strokes are a textbook of consistency and explosiveness.
See great matches with lots of long rallies, world-class shotmaking, intense competition, surprising upsets!
See top-notch performances by Boll, Kreanga, Primorac, Schlager and other top world stars!
The must-see match between Toth and Boros displays women's competition at its finest.
For you penholders - learn from the way Ni Xia Lian manipulates and controls the table with her deft touch and severe angles.
The Men's Team Final between Germany and Sweden goes down to the wire!
You'll want to watch these DVDs over and over! The footage is broadcast quality with an abundance of slo-mo replays so you can really study the top players and improve your own game!


DVD A: Men's Team Competition Final
SWEDEN VS GERMANY
WALDNER vs WOSIK
HAKANSSON vs BOLL
KARLSSON vs HIELSCHER
WALDNER vs BOLL
HAKANSSON vs WOSIK
DVD B
WOMEN'S SEMI-FINALS
TOTH vs BOROS
NI XIA LIAN vs BATORFI
WOMEN'S FINAL
NI XIA LIAN vs TOTH
MEN'S QUARTER-FINALS
BOLL vs BENTSEN
SCHLAGER vs KARLSSON
DVD C
MEN'S QUARTER-FINALS
PRIMORAC vs SAMSONOV
KREANGA vs WALDNER
MEN'S SEMI-FINALS
KREANGA vs PRIMORAC
DVD D
MEN'S SEMI-FINALS
BOLL vs SCHLAGER
MEN'S DOUBLES FINAL
BOLL/FEJER-KONNERTH vs BLASZCZYK/KRZESZEWSKI
MEN'S FINAL
BOLL vs KREANGA
Ordering Information
Free shipping over $50 to continental US This applies on all items except Newgy items.
Best Price Guarantee We guarantee to have the lowest prices (shipping included) when compared to US table tennis stores. Please tell us if you find a lower USA price.
Reviews
Submit a short review about 2002 European Championships - ONE DVD Only.