Holiday Delivery Deadline For delivery by December 24, this item needs to be ordered by December 17.
Butterfly Packun Care Sponge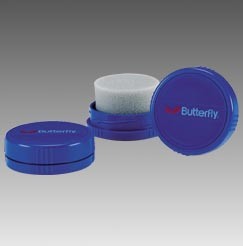 Price: $4.99

Packun Care Sponge is a sponge wiper attached to hard plastic case for use with rubber cleaners. Keeps your hands and bag clean.
---
Customers who purchased Butterfly Packun Care Sponge also purchased:
Ordering Information
Free shipping over $50 to continental US locations.
Best Price Guarantee We guarantee to have the lowest prices (shipping included) when compared to US table tennis stores. Please tell us if you find a lower USA price.
Reviews
Submit a short review about Butterfly Packun Care Sponge.

Back to Butterfly Table Tennis Cleaners


Back to Table Tennis Cleaners



All items are in stock unless otherwise stated.

If you need help or advice do not hesitate to contact us.