Yasaka Pryde 40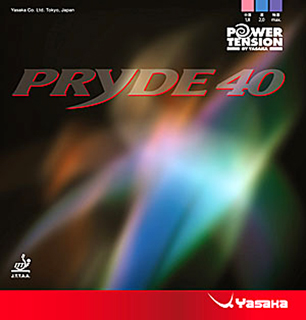 $36
.95
$49.95
Save $13.00 (26%)
A new rubber from Yasaka using the latest technology.
PRYDE 40 has a new developed sponge that creates even better speed and bigger sound for players who want to play a fast attacking game. The Power Tension rubber that does what neither traditional rubbers or other tension rubber could.
You feel the speed and and you recognise the sound.
There is no need to bother with speed glue at all.
PRYDE 40 has medium soft sponge, a perfect mix of speed, spin, sound and feeling.
Name on top sheet is "PRYDE
Sponge color is "Yellow".
Speed: 96
Spin: 94
Control: 70
Hardness: 43-47
---
Customers who purchased Yasaka Pryde 40 also purchased:
Additional Information
Rubber FAQ and Guide - what you need to know when buying rubber sheets.
Compare rubber ratings - compare ratings to other sheets.
Best Price Guarantee We guarantee to have the lowest prices (shipping included) in the US. Please tell us if you find a lower price.
Reviews of Yasaka Pryde 40 (7)
External Review

for

Yasaka Pryde 40

on January 30, 2016
I have Red in 2.0mm sponge, on a Hurricane King 655 and Galaxy W6. I use it on my backhand. It's awesome on the W6 and I can consistently hit side line shots (I have a 1400 USATT rating) and this has improved my confidence. I can (switch sides) and use it for spinny serves (many opponents return into the net and complain about the spin). On BH I love looping with it on either blade (I'm favoring my W6 over the 655 b/c of shot placement (W6) versus speed (655). I get good speed (more speed from the 655!). This has about 3 gears: low (returning serves is easy), medium low (looping) and fast (slams mid-distance). Note: I only buy this in Red and 2.0. I wish people would state their color when reviewing.
---
External Review

for

Yasaka Pryde 40

on April 27, 2012
I love the tacky surface of this rubber. Lot of feel and speed for both close to the table and mid distance attack. Good for serve as well. Speed 9.0-9.2 Spin 8.8-9.0 .
---
External Review

for

Yasaka Pryde 40

on April 12, 2012
Wears out way to quickly. Great rubber for the first month. When this rubber dies, its gone. Great for the offense game.
---
External Review

for

Yasaka Pryde 40

on October 17, 2011
DHS Magician M-02(ALL+) with these on both sides really shines. Control is great, hardness is just right with this combo. You get that click sound when hit hard, love it! Perfect rubber.
---
External Review

for

Yasaka Pryde 40

on June 7, 2011
This is a very lovely rubber for attacking players. It has good control for the amount of speed it generates. Blocking is good with this rubber. Once you are use to the rubber then its lovely. I got it on my forehand and backhand..i like it on my backhand better. It produces a very fast backhand down the line(my favourite shot)
---
External Review

for

Yasaka Pryde 40

on June 21, 2010