Table Tennis 102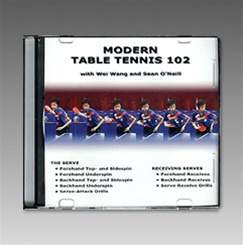 Approx 45min.
An instruction video in which Wei Wang and Sean O'Neil show you practice drills designed to build consistency in that specific phase of the rally. Technique and strategy of the following are covered. The Serve - Forehand Top and Sidespin Serves - Forehand Underspin Serve - Backhand Top and Sidespin Serves - Backhand Underspin Serves - Serve and Attack Drills - Forehand Receives - Backhand Receives - and Serve Receive Drills.

Additional Information
Best Price Guarantee We guarantee to have the lowest prices (shipping included) in the US. Please tell us if you find a lower price.
Reviews of Table Tennis 102 (1)