Gambler Oversize Kevlar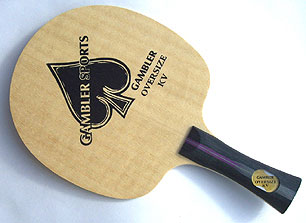 Price: $31.95

GAMBLER OVERSIZE KEVLAR FL
K/V Oversize has a custom design that maximizes the striking surface.
The optimum striking surface of this blade is larger than ANY other professional grade blade on the market.
Specialized Kevlar weave enhances the sweet spot to the outer edges.
Speed: 55
Control: 96
Flex: High
Weight: 80g
Ply: 3 wood 2 Kevlar weave
Handle style: Flared
---
Customers who purchased Gambler Oversize Kevlar also purchased:
Ordering Information
Blade FAQ and Guide - what you need to know when buying a blade.
Compare Blades - side-by-side blade rating comparison.
Blade Weight Variations - Actual blade weight may vary by up to 8g.
Free shipping over $50 to continental US.
Best Price Guarantee We guarantee to have the lowest prices (shipping included) in the US. Please tell us if you find a lower price.
Reviews of Gambler Oversize Kevlar (6)
Submit a short review about Gambler Oversize Kevlar.

View all 6 Reviews
| | |
| --- | --- |
| | External Review on March 13, 2013 |
Too much flex. You lose control because of this. The odd shape makes it difficult to try complex service movements. Superior to some of the highly priced defensive blades.
---
| | |
| --- | --- |
| | External Review on July 18, 2011 |
I like this blade. Although not fast, it has good control whether close to the table blocking, away from the table chopping, or mixing up sidespins, topspins, and the occassional lob. I got pretty good response out of Quattro UL and Focus III Snipe, Venus produced really nice spin but it made the setup too heavy. Currently I use Outlaw on both sides (180 grams) and feel it gives the best combination of speed, spin, and control.
---
| | |
| --- | --- |
| | Review by dawg15 on May 3, 2011 |
I love this blade. This was the second blade I ever bought and have bought several more since this one, but I keep coming back to it. At first I didn't like the large size of the head, but I am used to it now.

The sweet spot is definitely larger than a standard blade. It is slow (which I like) it chops well and can attack pretty good too (I don't attack much, only when I have a good forehand shot). The handle is a good size (I have straight) it is long, but I like it. All in all a great blade for defenders...
---
| | |
| --- | --- |
| | Review by im144339 on October 29, 2010 |
this blade is good for defensive play, and is an addition to the composite defensive blades. (some are nittaku monophonic, butterfly matsushita pro special, nittaku tiluna, nittaku haneyoshi, gambler arylate/carbon, and more.) suitable for use with long pips and thin sponge, half because the oversize head will make the 2.0 sponged rubber insanely heavy (even though this blade is light)and the top ply is medium hardish, to increase reversal.
---
| | |
| --- | --- |
| | Review by phomat on May 29, 2009 |
Great blade for chopping and blocking, particularly with relatively thin sponge. Fast enough to counter effectively. Light, excellent control and very large sweet spot.

View all 6 Reviews