Donic Slice 40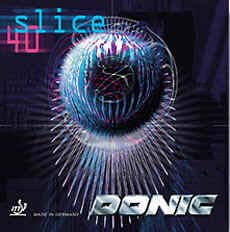 $42
.95
$43.95
Save $1.00 (2%)
The new DONIC SLICE 40 has the new sophisticated pimple design of the SUPERSONIC, but with a different, softer rubber surface tuned for defensive strategies. It is remarkably quicker than the well proven Slice rubber in its standard version. It offers more chop possibilities and more trickiness when defending with the 40 mm ball. The DONIC SLICE 40 is not only for control, but it also has very good offensive characteristics for top-spin and counter attacks.
Speed: 66
Spin: 91
Control: 80

Additional Information
Rubber FAQ and Guide - what you need to know when buying rubber sheets.
Compare rubber ratings - compare ratings to other sheets.
Best Price Guarantee We guarantee to have the lowest prices (shipping included) in the US. Please tell us if you find a lower price.
Reviews of Donic Slice 40 (5)
External Review
for
Donic Slice 40
on March 6, 2016
On Donic Defplay this is a very good b/h rubber,much less spin sensitive than a tackiness c and very good for serve return , chops and far better looping ability.Usable on f/h but can bottom out when looping sometimes,they should have made a slightly thicker sponge version 1.8 would be perfect for f/h.Stickiness fades and needs constant cleaning to maintain,I use Spinmax Aqeous which does the job nicely
update:new version Slice 40 cd in 1.8 sponge now out,my resistance to try is becoming futile......
---
External Review

for

Donic Slice 40

on December 6, 2014
(Red 1.5 Review):

An ideal rubber for all around or defensive play style. Blocks really well. Chops and loops are extra spinny and have excellent control. I play an all around style with lots of blocks and it works very well in conjunction with an anti spin rubber -- hard to tell whether there is lots of spin or a reversed/knuckle ball.

Since this rubber has high spin potential and remarkable control, service with the Slice 40 is just great.

Offensive wise, this rubber can produce awesome top spin and smashes. Slower than offensive rubbers, obviously, but it's still effective for kill shots.

Rubber is actually pretty durable and lasts a long time.

--Reliable for both Offensive & Defensive--
---
External Review

for

Donic Slice 40

on January 9, 2013
After few hours. Everything written above is confirmed. I put a sheet of 1.5 on my BH to experiment with. Nice chops and great control. Looping ability is sufficient, flat, well-placed strokes can disturb your opponent's ballance. With BF M2 on FH one can kill forced high returns.
1st update. Close to horizontal orientation strokes are needed (compared to M3) you are just supposed to push your bat in the direction required. Huge control , as I suspected, perhaps due to the 1.5 thickness of the rubber , I presume. To my great astonishment it is quite easy to lift underspins. My opponents are called with their trousers down by difference in speed (Fh Bf M2 , Bh Slice40) and really heavy chops :) I cannot help annoying them.
---
External Review

for

Donic Slice 40

on December 17, 2011
I have this on a Stiga Tube Carbo OFF blade as backhand rubber. I have a fast Rakza 7 as forehand. Even though my blade is supposed to be a little higher in weight this combination makes the racket feather light. (I got mine pre assembled so cannot tell the weight of the Slice 40.) Even though this rubber is slow the fast blade makes it faster. It is the perfect combination to my offensive forehand. The difference in the speed compared to forehand really throws the opponent off. I can easily push short serves and then once I lift the backspin with my forehand then I can continue the topspin attack with this. Specially the control is great. I can do pinpoint topspins to the two corners of the table with this. This rubber is a great way to tame a fast blade.
---
External Review

for

Donic Slice 40

on March 24, 2010
Impressive consistency and pin-point accuracy when used on backhand chop/slice (as the name suggests). Deft touches are a delight. Applying varied spin is a piece of cake often catching opponents off-guard. especially good if you have an attacking game you can switch to in an instant (I use this rubber on the flip-side to an attacking forehand). Although quite slow, flat hitting has enough speed to put the point to bed (and incredible control means that the ball can be placed accurately at speed). Good for close to the table arching spinny backhand loops too. I've found durability to be better than the more offensive Donic rubbers I've used. All in all I have very little to criticise about this product.