Donic Li Ping Kitex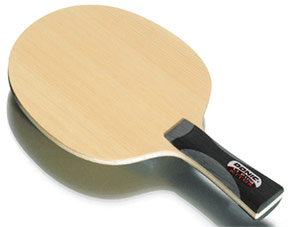 $59
.95
$78.95
Save $19.00 (24%)
Free US Shipping
DONIC developed the sensational new LI PING KITEX blade expressly for Li Ping, a young Chinese National Team player who is one of China's hopefuls after Olympics 2008.
The LI PING KITEX blade consists of high-quality wood plies with two extra texalium inner layers.
The high-quality, hard hinoki outer plies, as well as the texalium inner plies, guarantee strength, flexibility, and power. The combination of the soft ayous inner ply and kiri middle layer produce a perfect synthesis between speed and control. If you are an attacker who, like Li Ping, has a varied topspin game, you will enjoy using this blade.
Speed:94
Control:85
Weight:90
Ply: 7
Additional Information
Blade FAQ and Guide - what you need to know when buying a blade.
Compare Blades - blade rating comparison chart.
Blade Weight Variations - Actual blade weight may vary by up to 8g.
Blade Sealing/Varnish
You may
add blade sealing
for this blade. Sealing prevents wood splintering.
Best Price Guarantee We guarantee to have the lowest prices (shipping included) in the US. Please tell us if you see a lower price.
Reviews of Donic Li Ping Kitex (6)
External Review

for

Donic Li Ping Kitex

on January 30, 2013
No one put any review on this blade for years..while some people in my country said this is one of their best seller. So I bought this blade with some hesitation.

After trying, Wheeew... What a blade! Trust me, i've tried many donic blades previously, and this is their best blade IMO. The head is smaller than regular blade, but it feels very2 balance, it just feel very natural. I pair it with acuda s2 front/back.

Speed is not too fast but enough, feel, control and everything is superb! I still can't believe how come there's no review so far. I might say that this blade is better than tb alc which I also admire. The small head will actually helps you to focus your stroke.

This blade deserve highest rating from me.
---
External Review

for

Donic Li Ping Kitex

on October 25, 2016
Rubbers used to test: T64, EL-P, MX-P, M2.

The handle is a chinese style handle, no matter which type you choose, it will be small. Even smaller than the ZJK or Shiwen blade, but it is comfortable for me. The blade is head heavy, which I personally prefer. The composite layers in the blade are next to the kiri core, dark grey in colour. Middle layer of the blade is ayous/samba/abachi, which is nice. Top veener is kiso-hinoki (200 years old), which is perfectly sanded, no visible pores or uneven surfaces, where your glue would stick in.

So the blade was designed to loop, but also have a bit more power. It is marked OFF-/OFF by the manufacturer, which I think is reasonable. This blade resonates, which gives the optimal feedback from the contact of the ball. The blade is predictable in every situation. Sweet spot is suprisingly large, I would say that the 1,5 cm margain of the head is not usable. When looping the arc of the ball is medium. Also the feeling of the loop is very pleasant, no resonations. On direct flat hits the blade resonates on low tempo, but this resonance fades when hitting harder.

A very stable and offesive blade with fine touch, the soft top layer of hinoki makes every loop a spinny threat to the opponent. It is usually spinnier than similar ZLF blades with limba top veener. Works well with modern ESN hard rubbers, gives them fine touch. Arc of the ball is medium, but steady and safe. No matter how you vary the power.

I would recommend this blade to allwood blade lovers who want speed and control around 80-85 grams. Texalium gives a bit more power, but not that much like carbon. This is a controlled to aggressive looper blade which has the power for smashing. To be honest it definetly feels like Jun Mizutani ZLC, with a bit more power and better feeling in flat contacts. Price tag is pleasant, I wonder why it got no hype. Also works well with poly ball.
---
External Review

for

Donic Li Ping Kitex

on February 11, 2015
Hi
This blade is very very good blade. Speed is enough, Control is perfect and feeling is very good. when you hit the ball , li ping embrace it!!!!! and land it on desired place. Very Very Awesome. .................
---
External Review

for

Donic Li Ping Kitex

on April 5, 2013
This blade is AWESOMEE!!!!
Even thou I played with this blade for only 1 year, I can already conclude that this blade is one of the best blade, not only it is fast but most of all it is easy to control and handle...
---
External Review

for

Donic Li Ping Kitex

on January 2, 2009
the donic KiTex blade is a very good blade. It is a offensive typed blade that has very good speed and pretty good control. It is a very good blade for people who play a chinese style, with all around loops and extreme speed, power, and spin.

The blade is made two plies of pretty stiff wood on the outside, and with some more soft, elastic wood in the core. So, the blade has a very elastic feel to it, which also gives you a pretty good feel and control on the ball. It is also somewhat heavy, at 90 grams. Overall, i think this blade is a great buy. For only 70 dollars, it is a very nice offensive blade.
---