IPONG undergoes makeover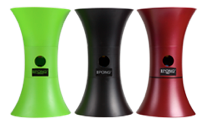 Friday, August 19, 2011
The IPONG line has undergone a complete makeover from the 2010 and 2009 models! IPONG now offers three versions - IPONG Topspin, IPONG Original, and IPONG Pro. Features vary with each model to cater to different playing levels. The base model, IPONG Topspin, shoots out adjustable topspin balls for beginners who are just starting out, the Original model adds customizable backspin to the mix, while the Pro offers a combination of variable spin and oscillation.
Across the board, every model has been subjected to material and technological upgrades:
Motor - A top-of-the-line gearbox that can match your intensity during practice!
Projection Wheels - Instead of foam wheels that weren't always the same shape and began to deteriorate after about 50,000 revolutions, the new models use long-lasting rubber wheels that are consistent in shape and size.
Plastic - In addition to being thicker, the new IPONG line features a matted surface that resists unwanted fingerprints and dust. Furthermore, the material upgrades and improved design make the parts easy to put together.
Logo Plate - IPONG introduced a stylish logo plate with a designated spot on the front of each robot. The result is a clean and classy new look!
Colors - To help customers differentiate between the models, IPING have introduced two new colors to the mix. The IPONG Topspin comes in a bright and energetic green, the IPONG Pro comes in a deep red, while the Original model remains black.
Oscilliation Plate - This plate has been reinforced so that it can transition smoothly and better accommodate the weight of the balls.
Remote - The size of the remote has been reduced so that it is now thinner and lighter.
Warranty - Every IPONG comes with a one year warranty issued by the manufacturer.
Packaging - The boxes have all been redesigned to reflect the exciting new changes of the product. In addition, IPONG are joining in efforts to protect the environment - styrofoam packaging material is no longer being used.
Order online