Ma Lin and Li Xiaoxia win ITTF Pro Tour Finals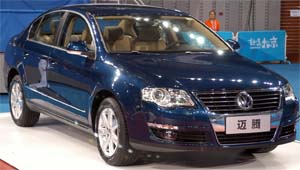 Sunday, December 16, 2007
Chinaís Ma Lin and Li Xiaoxia are the proud owners of Volkswagen Magotan Four Door Saloon cars, following their efforts in the Menís and Womenís Singles finals respectively at the Good Luck Beijing Volkswagen Pro Tour Grand Finals on Sunday 16th December 2007.
At the final hurdle Li Xiaoxia beat compatriot Guo Yue whilst Ma Lin also faced a team mate; he confronted Wang Hao.
Li Xiaoxia won 11-5, 11-6, 7-11, 7-11, 11-6, 11-9 whilst Ma Lin prevailed by the margin of 12-10, 11-9, 10-12, 11-8, 5-11, 11-9.
It was the second time in his career that Ma Lin had won the title, he succeeded in 2001 whilst for Li Xiaoxia it was her first success.
Victory for Li Xiaoxia in the Womenís Singles final and earlier in the proceedings she had enjoyed success in the Womenís Doubles gold medal contest.
Partnering her adversary in the Womenís Singles final, Guo Yue, the duo overcame the Koreans Kim Kyung Ah and Park Mi Young a hard fought six games encounter; the Koreans giving their illustrious adversaries a host of problems; far more than in their four previous meeting in 2007.
Guo Yue and Li Xiaoxia won 11-3, 11-7, 8-11, 11-3, 7-11, 15-13.
Two gold medals for Li Xiaoxia but not for Ma Lin, he had to settle for gold and silver.
Similar to Li Xiaoxia he partnered the adversary he faced in the Menís Singles final, Wang Hao, in the contest to determine Menís Doubles gold; the pair losing to Chen Qi and Wang Liqin.
Chen Qi and Wang Liqin won 11-9, 11-7, 7-11, 11-6, 12-10.
It was the first time that Chen Qi and Wang Liqin as a pair had won the Menís Doubles title at an ITTF Pro Tour Grand Finals and it was the same situation for Guo Yue and Li Xiaoxia.
Photo: The Volkswagen Magotan prize
Source: ITTF